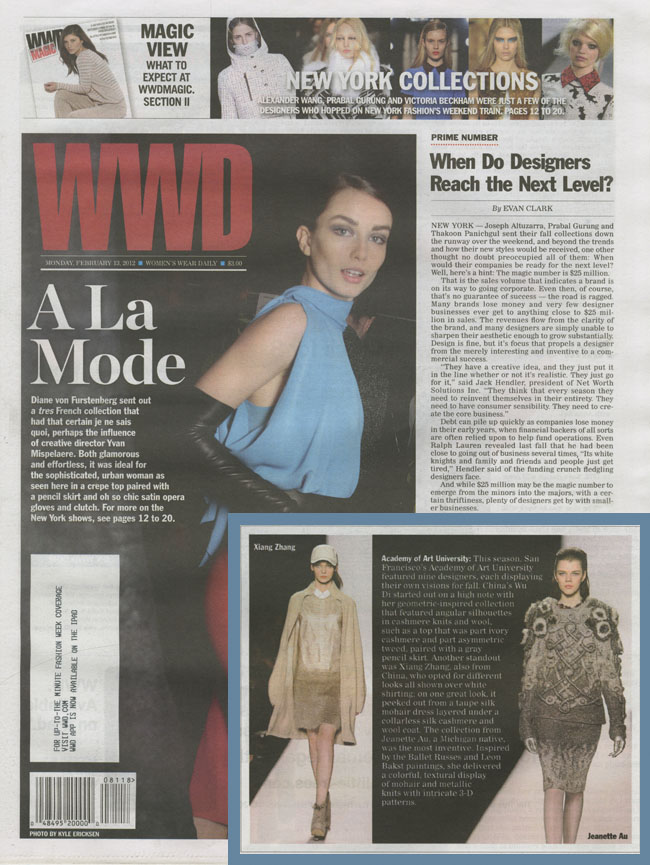 The Academy of Art University Fall '12 Fashion Show was featured in Women's Wear Daily!! Monday's issue included a write up of the collections, and two gorgeous photos – one from Xiang Zhang's collection, and one from Jeanette Au's. Here are few highlights from the review!
China's Wu Di started out on a high note with her geometric-inspired collection that featured angular silhouettes in cashmere knits and wool.

Another standout was Xiang Zhang, who opted for different looks all show over white shirting: on one great look, it peeked out from a taupe silk mohair dress layered under a collarless silk cashmere and wool coat.

The collection from Jeanette Au, a Michigan native, was the most inventive. Inspired by the Ballet Russes and Leon Bakst paintings, she delivered a colorful, textural display of mohair and metallic knits with intricate 3-D patterns.
For more from Mercedes-Benz Fashion Week, click here.