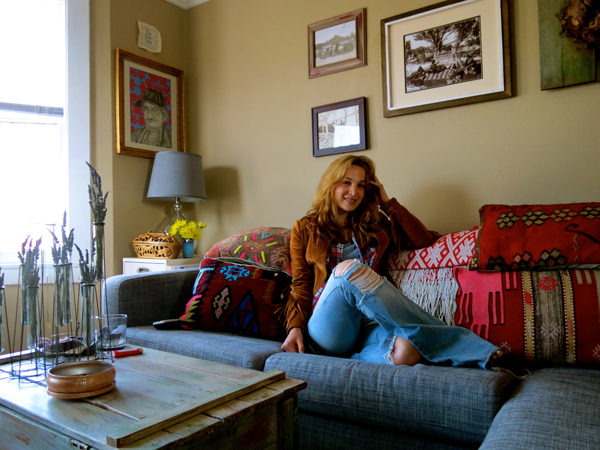 Tamar Wider – the designer of The 2 Bandits.
I follow Tamar Wider's voice down the hallway into her work studio. It brings me to a second hallway lined by brightly knit rugs, and leads to a humble room full of curiosities. I had to keep my eyes from wandering all over before I fixated on the tiny designer and an equally tiny dog, Rigby.
"Don't worry, Rigby's nice. She's just shy when she first meets people." Tamar explains.
Rigby's nervous shakes weren't enough to distract from the numerous trinkets perfectly disseminated around the room. Band posters, and personal black and white photographs coat the walls. Tribal antiquities and odd jars of flowers are sitting on table surfaces and wall nooks. There are bits and pieces of 2 Bandits remnants carefully organized into tiny shelves throughout. It's a bohemian dream realized through interior decorating.
It matches Tamar's seamlessly unkempt hair and ripped jeans. "Messy-neat" she illuminates. Tamar's one employee and right hand woman is situated in the middle of the room, typing up an order form.
"I just want to be like all the people in The Last Waltz. I want to be like Neil Young, and I want to be Bob Dylan's girlfriend. The Bandit girl is the girl that got caught smoking in the bathroom in high school."
Follow the jump to read more!
Laughing, she continues.
"I was obsessed with the documentary, The Last Waltz. It's about The Band… called The Band – Dylan's back up band. It was their last waltz, the last concert, and everyone joined them. Joni Mitchell, Neil Young, the whole crew, Van Morrison. They all sang together. The whole documentary is so cool, I'd watch it over and over again and try and create these bandits by looking at their guitar straps and their whole vibe of the documentary."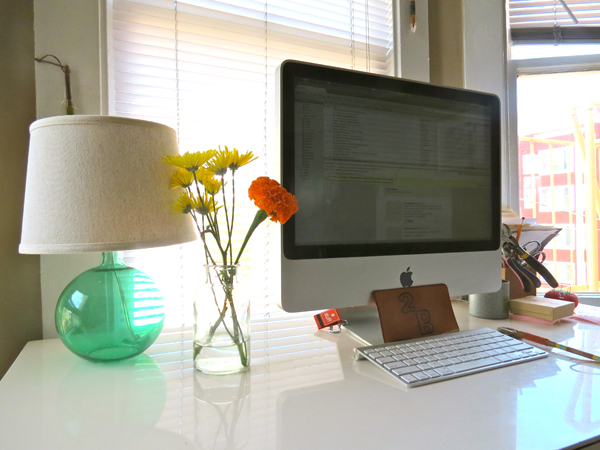 Coming from a family of diamond dealers in the great state of Texas, the petite designer contradicts her background. Producing three The 2 Bandits collections a year, Tamar chose to create costume jewelry rather than work in precious stones.
"My background, well I went to school in Israel to study gemology, stone study, because my dad's a diamond dealer. He specializes in fine watches with my grandfather and they do really well. So I've just always had a jewelry background. I know I wouldn't be able to design diamond jewelry because it's really scary, it's never been a passion of mine. I have more room for creativity with what I'm doing…"
With a pit stop in Israel, not the typical move for someone heading towards fashion, Tamar sits across from me as she brightens – "I mean why the hell not go to Israel?"
"Also, when I was younger, I grew up just really creative. Like I would go on tours with bands, like Phish and the Dead and sell patchwork out the back of my car. So I was like, what do I do when I'm 18? I'm going to move to Israel and see what's going on. So I moved and just became this huge hippie, and gemology just wasn't matching my lifestyle. Israel was amazing – I was lost in a spiritual world." (She laughs)
"I grew up with The Phish and The Dead and Cat Stevens. I went to a hippie camp – it was in Missouri. After lunch we'd sing for two hours, and we had a songbook of The Grateful Dead, Joni Mitchell, all of them. So that's why all my favorite music is camp music."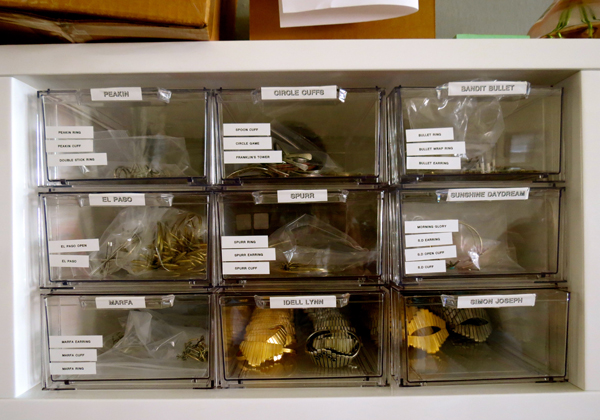 Regardless of summers in Missouri, one can't miss the Texan influence in Tamar's collection – conchos, teepees, moonstones, and bootstraps. Other various items around her apartment disclose their guidance in her designs; a small tomahawk, tribal figurines and even Rigby, who sits patiently, dons a red bandana. The 2 Bandits, she explains, is a bit of a coincidence.
"Bandits had a rebirth last year. It started my last year out of F.I.T., I was wearing trim at the top of my boots. And I was at school and everyone was like 'It looks so cool.' It was kind of like a Navajo, jacquard Native American trim."
Is this how 2 Bandits was born? I ask. She walks over to a mannequin in the room and pulls the boot trim off.
"I have it hanging up as a reminder, but I had it just like on top of my boots (displays the style by wrapping it at the top of her boot). And I kept getting compliments, and I was like you know what? This is a really good idea."
So what inspired you to name your jewelry The 2 Bandits?
"It came from The Band, like The Band musical group. Because I love THE Band."
So 2 Bandits is inspired by THE Band…
"Yea, but also when you think of the word Bandits you think – guacamole, hot tamales, banjos…everything that is my upbringing."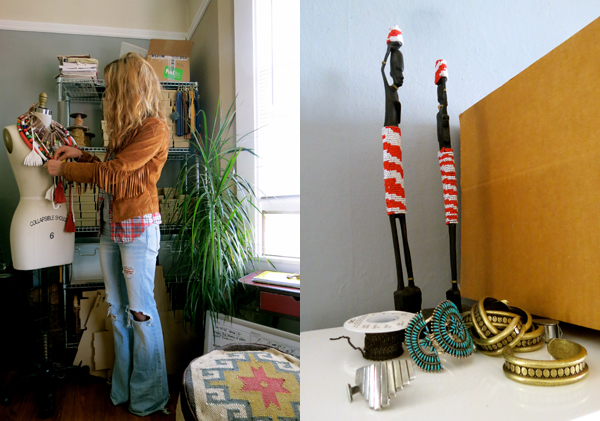 What does a Bandit girl look like? I enquire, even though I have a clear image in my head. I just want to hear Tamar describe it because everything she's said leading up to this point is what every free-spirited girl wants to embody.
"You can have a super refined outfit on but something has got to be torn up rustic, rustic meets refined. The perfect pair of distressed Levi's is the best thing ever, but if you put a leather jacket with it, it's the perfect outfit. Then add a Bandit's collar or bandana. So, it's mature, but something's got to be rustic. You know what I'm saying?"
I know what she's saying. It's a look, an attitude, easily worn but not conveyed. At this point I think, it's obvious why she is in San Francisco, but a designer on her level, typically doesn't exist in our fashion climate.
I feel like most designers like you are in LA or stay in NYC?
"Yea…from New York [City] I moved to L.A. for 3 months, because I was dating a guy, a musician. I ended up…well we were long distance forever so I moved out to L.A. When I got there I was like I don't like you, and I don't like this city. [laughs] SO I left. And now I live in SF, with my boyfriend."
Fair enough, this city is full of recovering L.A. natives.
What can we look forward to in your upcoming collection?
"I came up with this whole neck statement thing, bibs, collars. You'll see in my next collection, I made a tie. I'm just trying to be different. I'm trying to take that old vintage tee that you wear everyday (motions to my white T-shirt) because I'm a T-shirt and jeans girl. When you put on a piece of jewelry – it's a wow factor, it completes the whole outfit. (Points to me) You're wearing a bolo right now, that's all I look at when I look at you – besides your soul. (At which point I burst out laughing) But I'm serious its all I'm looking at."
It's surprising that such a small jewelry initiative garners such a cult online following. Featured in most of the big publications, Nylon, InStyle, Teen Vogue, Lucky Magazine to name a few… It wasn't until fashion blogger, Amanda Shadforth of Oracle Fox, posted a few shots of herself donning a 2 Bandits cuff that a major collaboration knocked on Tamar's door.
"Well the first look book that is [currently] on the site…I was actually really emotional during the shoot because it was like my first real collection and I was working with Ashley [Glorioso] and Zoey [Grossman] who are an amazing stylist and photographer. And I couldn't stop thinking 'Thank you. Thank you.'"
"Zoey saw my stuff on Oracle Fox because Mandy from Oracle Fox posted a picture wearing something of mine. So Zoey went on my website and got in contact with me. She said, "Your stuff is really great, but you could use some brand revamping." And I was like I KNOW…"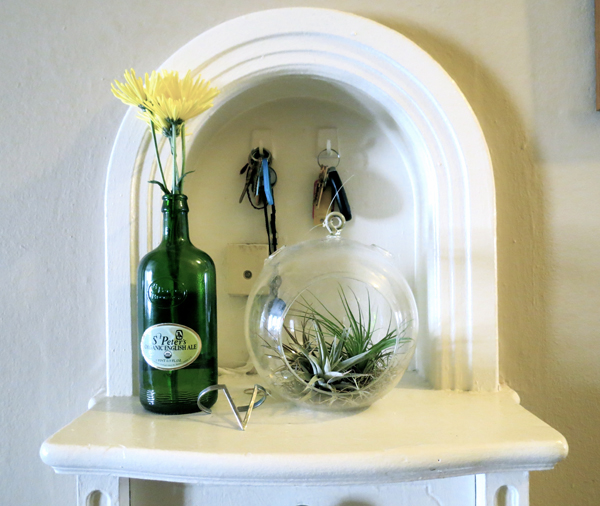 Where did you guys shoot the look book?
"Because we were shooting in L.A., I couldn't find anything I liked. So I used Air BnB and I found a hippie commune in Topanga Canyon, near Malibu. I contacted the guy and his name was The Light. I was like… what is going on here? There are aerialists floating thru the trees, there are moccasin makers -it was really cool. I was like this is the place!"
"And then I was so scared…because I was like Ashley, Zoey, this is a legit hippie commune. I'm bringing a real model, photographer and stylist to a hippie commune.
"When we got there they were so down, so it was cool. And Planet Blue [a Los Angeles based boutique] ended up shooting their latest look book there. I always try to portray that campy cabin-y look. We just shot my upcoming look book at Russian river in Guerneville. We shot in the Redwoods at a river, in a ranch…"
I check my phone. I realize I've posted up in The 2 Bandit's studio an hour longer than I intended. I could lounge in this hippie haven talking music and weird life experiences for the rest of the day with Tamar. But real life calls, and I need to catch MUNI.
What advice can you give to fledgling designers and business owners?
"You have to be a specific brand. You have to be really specific when you're designing. There are so many designers out there that just throw shit out there…I pride Bandits on creating stone settings and creating new jewelry from scratch. I think it's all about keeping your customers happy, interacting with them on social media. And I don't know, how do I say this – trying not to be so corporate, trying to be personal."
Thank you Tamar! Check out The 2 Bandits here.
Written and Photographed by Sara Iravani.