Assistant Director of Styling at the Academy of Art University School of Fashion – Flore Morton -issued a bold creative challenge to her FSH 384: Menswear Styling class. "I wanted students to build full stories, investigate brands, and think like designers," Morton says, "because what they're doing is reinventing the shirt…" Eleven students from diverse backgrounds, eleven distinct points of view, one blank canvas: a classic collared shirt courtesy of an iconic retailer GANT.
[metaslider id=39575]
Founded in 1949, GANT is an American sportswear brand synonymous with the button-down shirt and coveted coastal-living Ivy League look. Propelled by a desire to effectively cater to a broader consumer base, GANT now creates everything from sport coats to sweaters while maintaining a reputation for quality, character, and above all, perfect shirting. With a new executive team in place, global CEO Patrik Nilsson has taken on the ambitious task of guiding GANT in the quest to become the world's leading lifestyle brand by 2020, with a focus on performance enhancing product. An eye firmly set on a brighter future of fashion and design is something the GANT and the Academy have proudly in common.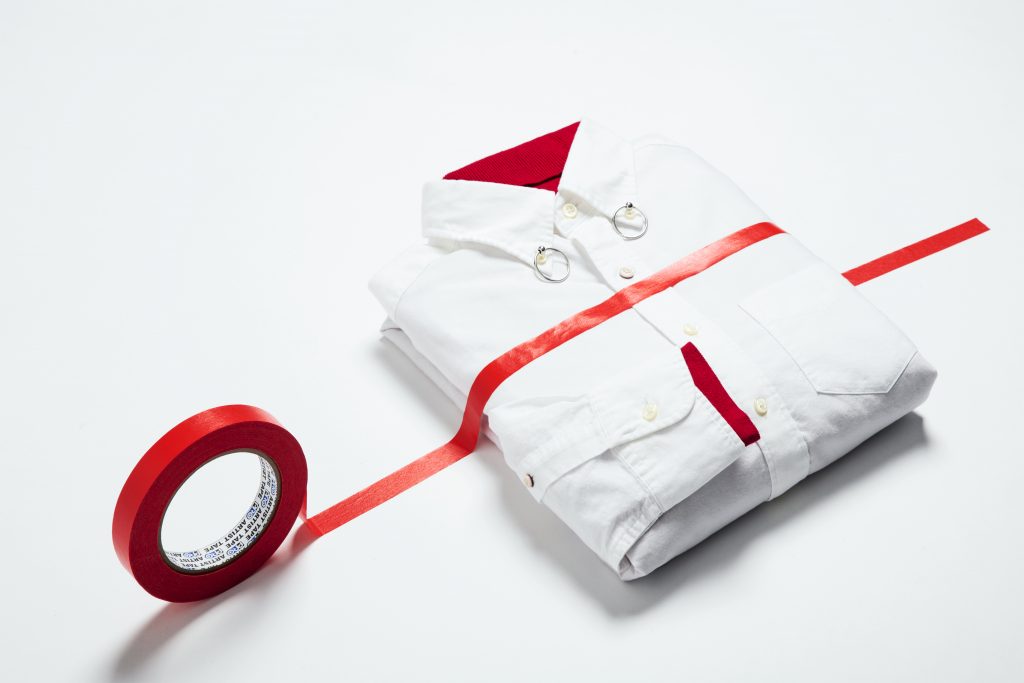 A FSH 384 student, Sophia Charles, says: "I feel very lucky to work on this project, I think it's the first time a collaboration of this kind has happened."
Dan Lakhman, Marketing Director of GANT North America, confirms this experience is the first engagement with a styling program at an academic institution for GANT in the U.S. "Never Stop Learning is our brand credo and the overarching platform for everything we do. We work hard each day to improve and connect with our consumers. The Academy of Art University's School of Fashion is the only accredited styling school in the country, making this a unique opportunity to connect with such talented students who also live by our mantra."
Morton says students will be given a lot of creative freedom to express their ideas through any number of customization techniques. "Some students have naturally more commercial aesthetics, and some are more conceptual stylists. As they are all in their senior year, it is important to allow the student to put their own twist on the project. It's finding the sweet spot between what is editorial, and what is commercial." The only limitation set forth by the brand is to refrain from mixing the titular product with other recognizable designer clothing. Lakhman explained the differences between the three available lines: "GANT pays homage to its sportswear heritage since 1949 with classic and colorful essentials that suit a variety of active and leisure lifestyles. GANT Diamond G focuses on modern, travel-friendly pieces with subtle sophistication and clean lines that easily transition from desk to dinner. GANT Rugger reinvents today's classic American sportswear pieces with an inherently 'dressy yet mess' vibe."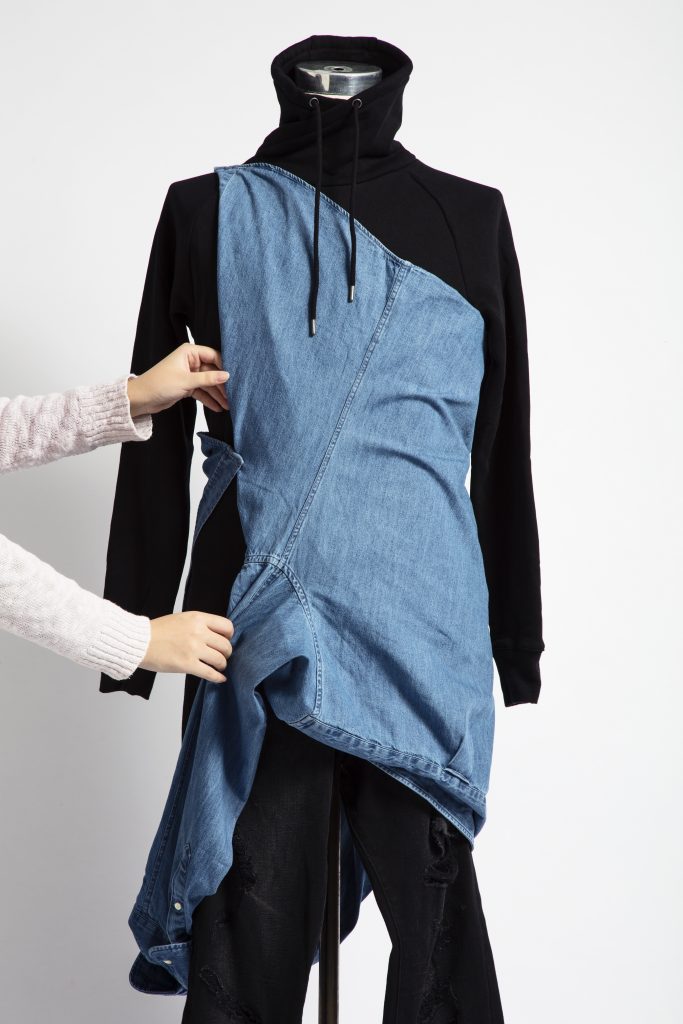 Student Fangdi Li looked to WGSN for trend inspiration and referenced a British film, This is England. "It's a challenge," says Li. "I had no experience styling menswear before this, but it's experimental and fun." Meanwhile, Hoilee Yeung opted for a 2D-3D illusion combining paper with fabric to compliment the brand logo. Nhu Dao mixed desaturated color palette with "nerdy" elements and Sophia Charles went for a sporty take on layering. "I'm trying to combine clean and minimal aesthetic with something more youthful. I looked to Stella McCartney and Gosha Rubchinskiy for inspiration," says Charles. The atmosphere in the class was electric with excitement yet friendly as everyone freely shared insights and constructive feedback. Students were encouraged to produce mock-up ideas on lookalike-shirts practicing the art of draping on the mannequins. The final looks were produced and stylized for a special on-site photo shoot you can see above in a slideshow. The GANT team will then review the images and select finalists.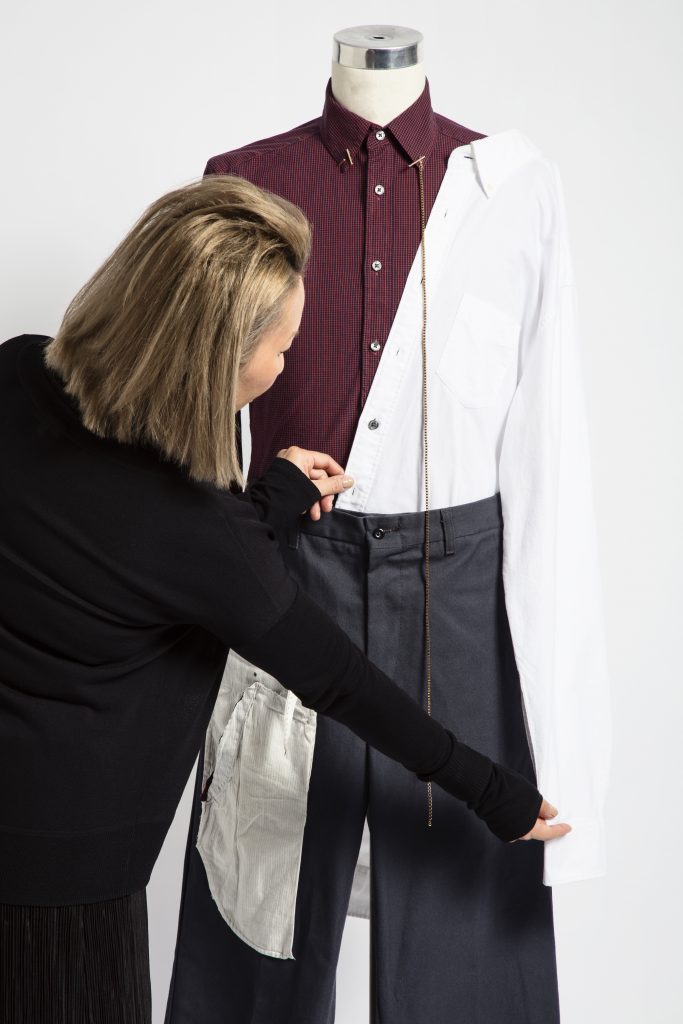 Both GANT and the School of Fashion at Academy of Art University  aspire to build a strong relationship between the historic brand, the greater Academy community (students, faculty, alumni) and the local influencers in San Francisco and the Bay Area. There is eager anticipation for mutually beneficial opportunities in the future, including exclusive merchandising and marketing internship options. This is part of the experiential strategy to provide students with a fully integrated professional learning environment. The results of the current pioneering collaboration will be presented in a window display at GANT's San Francisco flagship store at 552 Hayes Street on January 19th, 2017 from 5 to 7 pm.
Text by Kahea Montgomery, MA Fashion Journalism and Faye Harris, MA, Fashion Journalism