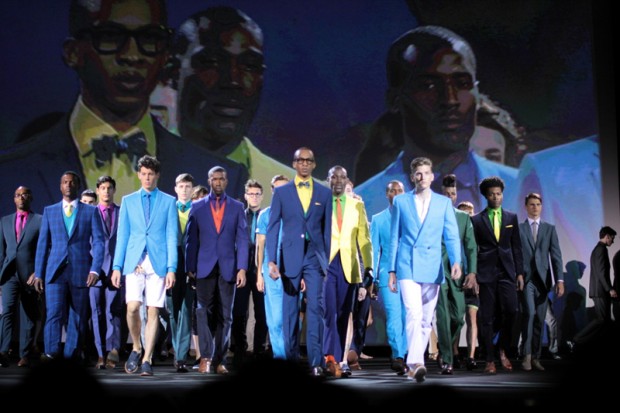 A still from the film – 100 models walked in Ozwald Boateng's 2010 collection, "A Man's Story".
Learning to find the balance between one's professional career and personal life is not always an easy lesson, especially if you have walked a mile in the same shoes as Ozwald Boateng. The youngest British designer and tailor to open a boutique on Savile Row spent a large portion of his life overcoming obstacles that ultimately led to his thriving success. Yet looking at him, you would never know just how difficult the journey was for him. It is in the documentary film, A Man's Story, that you get a clear understanding of who Ozwald really is.
He is a tall, statuesque man and if he wasn't a designer, he probably could have been a model. It is amazing that even through a projection screen, he has the ability to make you want to know him. There is no other way to describe it, the man has swag.
Follow the jump to read more!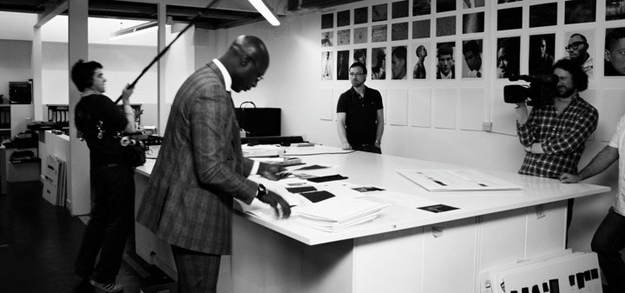 Ozwald and the film crew as he makes decisions for the upcoming collection. 
He struggled tremendously throughout the film and it was sad to watch. From his 1998 fashion show losing power, to his studio being robbed and his first marriage falling apart, it seemed his life was a series of trials and tribulations. But through it all, his impeccable sense of style remained.
It wasn't always bad times for Boateng, sunshine and good fortune managed to shine favorably on him. He met his second wife, Gyunel, a Russian model who he considered to be the love of his life. The love between the two is magnetic even through the screen. "I don't know what I would do if I ever lost her; I would be devastated" says Ozwald. After every fashion show, it was clear Gyunel was the only one who mattered as he ran to her side. They seemed to be two perfectly matched halves making the other whole.
His joyous moments throughout the film include the birth of his two children and the growth of his business. He is appointed as the creative director for Givenchy, causing him to run two businesses simultaneously—the French fashion house and his own. Very quickly he is given the opportunity of a lifetime, to broaden his market to the United States through his relationships with some of Hollywood's most elite celebrities. Designing bespoke suits for the likes of Will Smith, Lawrence Fishbourne, Don Cheadle, and Jamie Foxx, he strives to change the way that men view fashion. Yet as more success comes his way, the struggles rise again as his second marriage begins to fall apart. Sitting in a hotel room talking to his wife in his white terrycloth bathrobe, he receives the devastating news that his marriage is officially over. His wife's harsh confession to him when she says "I regret the day I ever met you", is powerful and heart wrenching.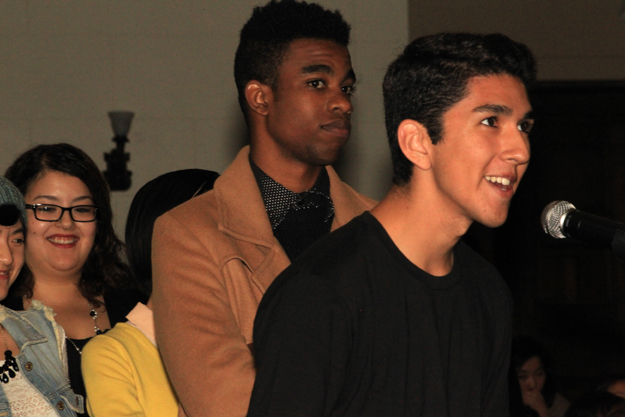 Students ask questions during the Q+A with Ozwald via Skype. Photo by Bob Toy.
After the film, students had the opportunity to meet the designer and ask questions through an intimate Q&A session via Skype.
What style advice would you give to American men who don't have access to a tailor?
Every man looks good in a well cut suit. If you can't afford a tailor, always look for a well cut suit.
What was the hardest to deal with – bankruptcy, loss of a collection, or the inevitable struggle of finding the balance between business and a family?
It's finding the balance between business and family. I don't know if you ever find that but what you do is learn to accept where you are at any given moment. That's key.
Even as a highly recognized designer, his story is relatable. It's not just a man's story or one man's story – it is universal. His message is clear, "Do what you believe in and stay true to yourself; you'll ultimately get what you want."
You can now buy the film on iTunes and Amazon. And be sure to check out the Fashion Design and Fashion Marketing competition on Facebook! If you're interested in participating, please contact your instructor for more details.
Written by Natasha Pearce