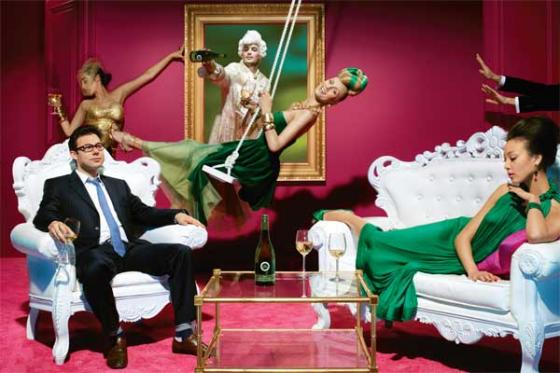 No. 2 of 3 ALL A-FLUTTER AT THE PIANO BAR, Photographed by Miles Aldridge.
We all get tired of seeing the same things come down the runways each season, and praise those designers who send out something new and fresh. And this month, 7×7 magazine is asking you to do just that – think outside the box and design something truly amazing for their Undo Ordinary Design Contest!
In partnership with Kim Crawford Wines, 7×7 is asking creatives of all kinds to submit designs in their area of expertise, from fashion to jewelry, to furniture to slick appliances and electronics. Any art form goes. The only thing that matters is that it must be unexpected and different.Whether you're able to find beauty in utter chaos, or build something incredible using found materials, they want to see it. And for those of you just bursting with creative energy, don't worry – you can enter more than once.
Follow the jump for details!
HOW TO ENTER:
You can enter via Instagram (use hashtag #UndoOrdinary7x7) or email us at undo@7×7.com (use "Undo Ordinary" for your subject line) until August 24, 2012.
7×7 editors will narrow it down to the Top 7 Designers, and then you'll start voting on August 28th to crown the winner, which will be announced on September 12, 2012.
All entrants must be 21 years or over.
THE PRIZE:
What's in it for you? The most unexpected and intriguing design will be placed in 7×7's November "Design" issue, as well as featured on 7×7.com.
The lucky winner also will be thrown a soiree with 50 of their friends in a 7×7/Kim Crawford Wines hosted event. So go on and share your talents with us!
For more details, click here.