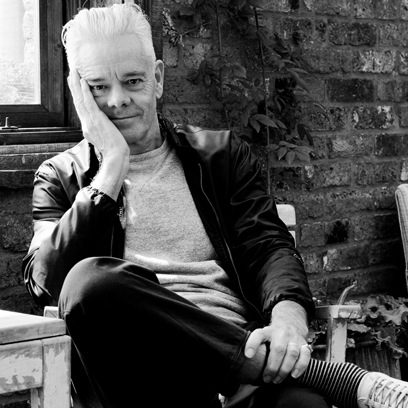 Keanan Duffty talks to Gordon Richardson, Design and Product Development Director at Topman, about fashion, music and revolution. After graduating from the Royal College of Art in 1976, having studied menswear design, he set up his own menswear label stocked at Harrods, Joseph and Fiorucci. Moving to Paris in 1978 to design women's accessories for Daniel Hechter, he progressed to designer of the international menswear collection. He returned to the UK as the Design Director of Sabre International, taking up the post of Principal Lecturer of Fashion at Kingston University in 1986 for a period of 11years before commencing his career within one of the UK`s largest portfolio of high street brands, the Arcadia Group. Having worked on Burton, Principles for Men, Racing Green and Hawkshead as Design Director, he commenced his current role within Topman in 2000. Defining the trends for each season with his design team and instigating designer collaborations his role is also to ensure that product development, garment production and subsequent marketing is completed to meet the high customer expectations.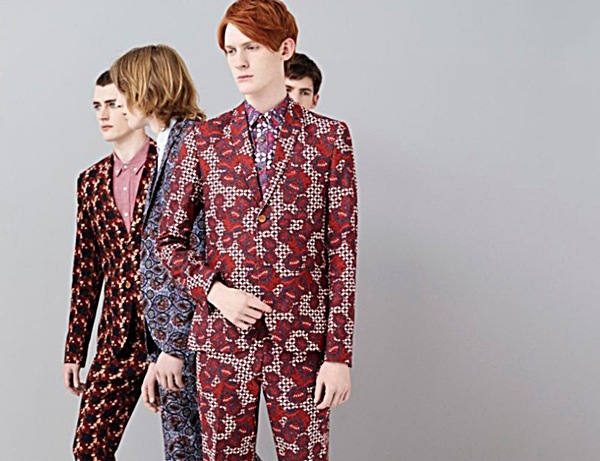 Duffty: What was the first record you bought and what effect did it have on you?
Richardson: Pretty sure it was House of the Rising Sun by the Animals but it could also have been You Really Got Me by the Kinks, it was such a long time ago. I also remember having Keep on Running by the Spencer Davis group featuring a young Steve Winwood in my collection around that time too, maybe a bit later, such a great voice.
The effect all these tracks had on me was pure magic and an opening to another world—which I seized upon readily, learning the guitar and playing in local school bands. . . desperate (too desperate) to make it somehow. We all worked from our passion of the blues upwards into different genres, entering Melody Maker competitions year after year with lots of different line-ups and musical directions. Never made it, hence existing fashion career!
Also my parents, in an endeavor to fuel my love of music, always pre-ordered the newest Beatles album. Upon its arrival at boarding school, we all used to crowd 'round an old record player and listen in awe. I remember our first band learning a lot of the Shadows instrumental tracks as a basis of how to play as a band before progressing to rock and roll. I'd still recommend this to any band starting out as a way of learning simple guitar melodies and structures.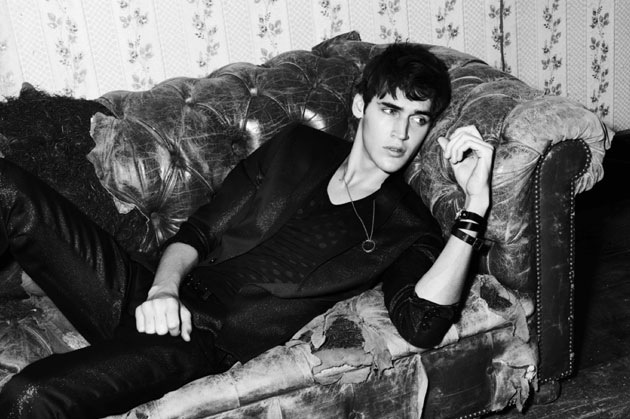 Duffty: When did you start designing clothes and who or what influenced you to do that?
Richardson: I started out on more of an art journey, studying graphics 'til in my inaugural year I did a one off fashion project that was set by the most exotic characters I'd ever met and my future was sealed. They were such a breath of fresh air, hailing from London, that exotic city (I was studying down south in Portsmouth, hardly cutting edge!). One of them was dressed as Mickey Mouse—well that's how I remember it—any way they were definitely more exciting than the bearded, older graphics tutors who all seemed to design credits for BBC shows which I found infinitely boring.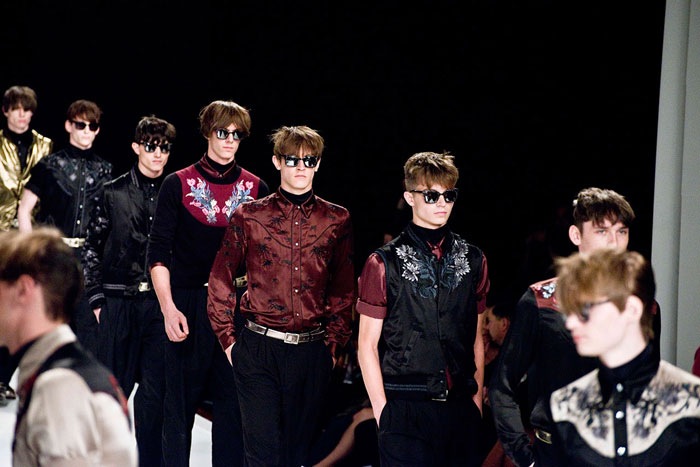 Duffty: As a designer do you consider yourself an evolutionist or a revolutionist?
Richardson: An evolutionist with revolutionist tendencies. I've always loved the simplicity and functionalism of classic clothes with the challenge coming from making them look modern. I'm not a designer of three sleeves and twisty asymmetrical fashion, although we have a little of that within our rock and roll AAA collection.
Written by Keanan Duffty