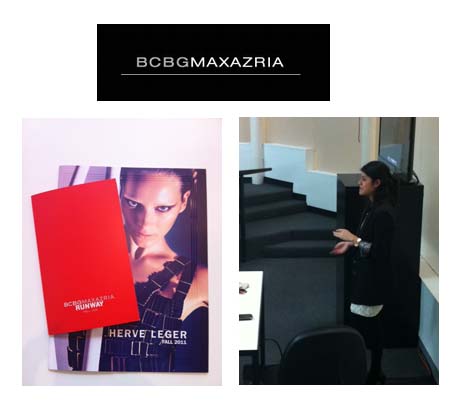 Last week, Julie Barrientos, a College Relations Specialist from BCBG, visited the School of Fashion. Over two days, she interviewed approximately 25 students from both the undergraduate and graduate programs in the areas of Design, Textiles, and Knitwear. She scrupulously looked over portfolios scouting for internships in various areas including Left Wing – which is their runway division, housing BCBG and Herve Leger – and Right Wing – which includes BCBG Generation and Max & Cleo.
Even though she had to catch a flight to LA just after her presentation, she took the time to review the portfolio of another student who was not able to get an interview slot and actually complimented her on taking the initiative to bring the portfolio "just in case" (a great lesson for the future!) She is truly dedicated to bringing true talent to the company. Also, during the Q&A, she spoke about what she looks for in a portfolio and emphasized the necessity for neatness (no coffee spills or torn pages) and encouraged students to invest in a clean professional portfolio format to give interviewers the right impression. She also mentioned that she enjoys seeing process pages and strong illustration skills with good proportions, and of course excellent flats.
We thank Julie for visiting us at the Academy of Art University and good luck to all the students who interviewed!