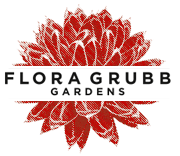 WHAT: Harvesting Color – Natural Dye Demo and Book Signing
WHEN: Sunday, September 11, 2011: 11 am – 12 pm
WHERE: Flora Grubb Gardens
** It's free! Just bring your own natural-fiber fabric
What's your fibershed?
Author, educator, and textile artist Rebecca Burgess will teach us how to use the beautiful natural colors that derive from our place in the California Floristic Province (the land we call home, designated by flora not politics) to pigment our fabrics.
Bring a piece of natural-fiber white fabric from home to dye!
Please RSVP here so that Rebecca can provide enough dye sources for all.
After the workshop, Rebecca will be discussing and signing copies of her marvelous book, Harvesting Color (2011).
Similar to a watershed or foodshed, your fibershed is the area in your town or region that provides fibers and dye colors needed for textiles and clothing.
Rebecca's work with local dyes and textiles – including growing, harvesting and processing her own dye ingredients – helps to bring the colors of fibershed to life.