Why Don't You? is a new post we have started on Fashion School Daily that will keep you informed about relevant things happenings in fashion, culture and art that you might want to go see. Actually, we highly encourage you to see them! 🙂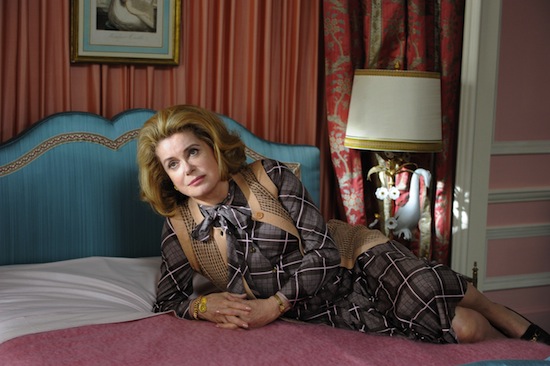 In her new film Potiche, Catherine Deneuve, born in 1943, plays a bourgeois housewife who turns into a career woman.
The film is set in 1977 and the costumes were designed by Pascaline Chavanne using Seventies fabrics.
In 1967 Catherine Deneuve played a bourgeois housewife who turned into a prostitute in Belle du Jour.
The wardrobe was designed by Yves Saint Laurent at his peak. The film was re-released in 1995 and the clothes were copied by Prada and many other designers.
Well worth renting the video and going to see the film: same star, similar fashion 43 years apart.
Here's the trailer for Potiche:
Potiche is currently playing in the Bay Area at the following theaters (click on the links for showtimes):
Clay Theater
2261 Fillmore Street, San Francisco
UA Stonestown Twin
501 Buckingham Way, San Francisco
Shattuck Cinemas
2230 Shattuck Avenue, Berkeley
Rafael Film Center
1118 4th Street, San Rafael