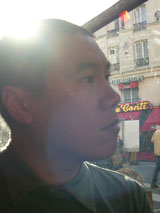 Quoc Lieu graduated in 2000 with a BFA in Knitwear Design, but instead of knitting his way to the top, he decided to go on a different route: jewelry.
"Jewelry has always been a passion of mine," says Lieu, who currently resides in Brooklyn. "I started making jewelry when I was in High School and have kept at it since. Even though I was studying knitwear, I always tried to incorporate the two together. In some ways I look at knitwear the same way as jewelry. They both take a lot of time and patience, but the reward is fantastic."
With prismatic, three-dimensional charm, his jewelry maintains a style that straddles the line of sci-fi and avant garde. But from any angle, his structurally sound rings, necklaces and pendants fashioned out of giraffes and matchsticks have an unmatchable personality that would probably entice unconventional minds – perhaps someone by the name of Lady Gaga? I mean, she's already worn a chic space age shoulder piece by Mike Feeney. Why should she stop there?
Nonetheless, Ashley Johnson (Academy of Art University student and 180 magazine contributor) had a chance to catch up with Lieu.
What is your creative process when you're creating your pieces?
There really isn't a specific process that I go through in creating my jewelry. If I get inspired by something, then I either try and work it out in my head or draw it out on paper. I hate drawing, so most of the time I work it out in my head and then go straight to work on metal. It sometimes comes out the way I imagined. Sometimes it doesn't, but that's how you come up with new things.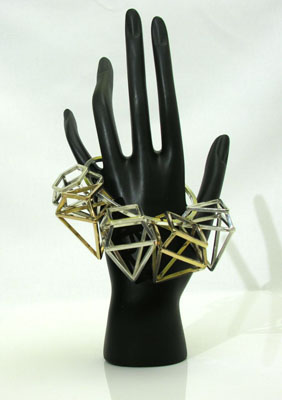 Lieu's 3-D diamonds
Where have you found inspiration lately?
Moroccan tiles. The patterns they create are amazing.

What's your favorite thing about New York City?
The energy. There's always so much going on. Whatever you're looking for there's something going on for everyone: art, food, wine, clubs, communities – you never get bored!
What about San Francisco?
The calmness. I always say it's a place to retire to – not that I'm saying it's for old people or anything (but) it's such a beautiful city that I can see myself growing old there.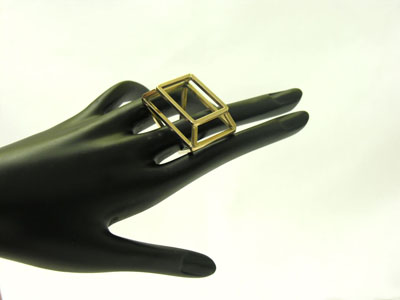 What was your favorite thing about the School of Fashion?
Working late nights in the sewing, textile and knitwear labs. That's when the most fun and the real creativity starts.
Do you have any advice for a graduate wanting to start their own company?
Always remember what your passions are and never give up.
For more info on Quoc Lieu and his jewelry, visit www.quoclieu.com