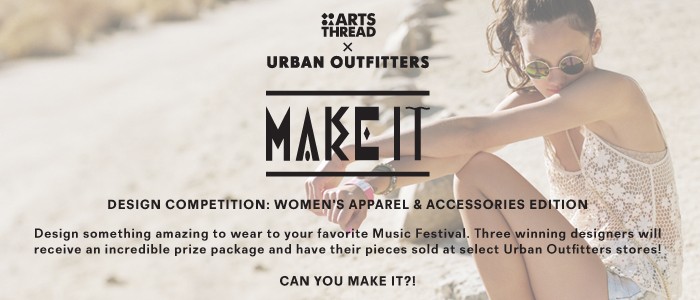 URBAN OUTFITTERS & ARTS THREAD are proud to introduce the Make It Design Competition: Festival 14
This festival season, the Urban Outfitters girl charts her path across the globe following the music. She must pack light because she's camping or simply on the move from one festival to the next. Fashion comes first so looking effortlessly gorgeous is the chief objective. What will be her must-have items for the journey?
CATEGORIES:
The Dress
Design the packable drama dress that makes all the girls jealous and all the boys beg.
The Bag
Design the most covetable carry-all that carries-on any plane, train, or automobile.
The Shoe
Design the ultimate new statement shoe that completes her look.
WHO CAN ENTER:
The competition is open to applicants worldwide. Entries must be from students and graduates **graduates must not be in full-time employment as a designer***
PRIZE:
There will be 3 identical prizes of:
* $1000 Cash +
* $500 Urban Outfitters gift card +
* Winning designs will be produced by Urban Outfitters and sold in select stores in the US & online at UrbanOutfitters.com +
**Item will have a custom swing tag featuring the designer's name**
DEADLINE:
MIDNIGHT November 3, 2013
For more information and how to enter, click here.