I knew that Ming Xi (a.k.a. the "Givenchy girl") was going to walk our show at New York Fashion Week but what I didn't know was that she was opening the show! It's unusual and unexpected for models of color to open a major fashion show, but looking at Ming Xi's reputation, she's perfect for opening the show.
Now that Ming Xi is Simon's newest BFF, let's study her in depth.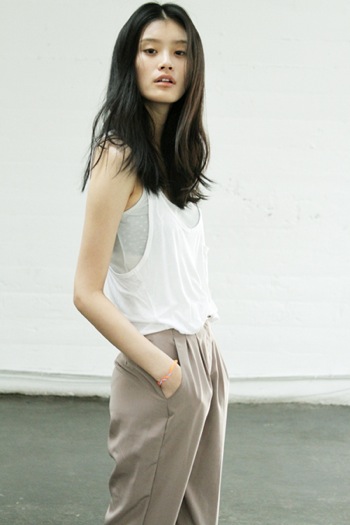 Is she wearing a friendship bracelet from Simon?
Ming Xi was born MengYao Xi in Shanghai, China March 8. I believe she is 22-23 years old. Most models start when they're 15-16—but that's okay because Ming is Asian and Asians do not age till we're 50. Ming joined a modeling competition called the Elite Model Look. Isabeli Fontana, Sigrid Agren and Charlotte Di Calypso all got their start participating in the same competition as well. Ming made it into the Elite Model Look finals in Sanya, China. They tried to make her name easier for the International public by calling her "Barbie" at first. But Elite Paris decided to call her Ming Xi—which was the most brilliant thing because Barbie has a bad reputation.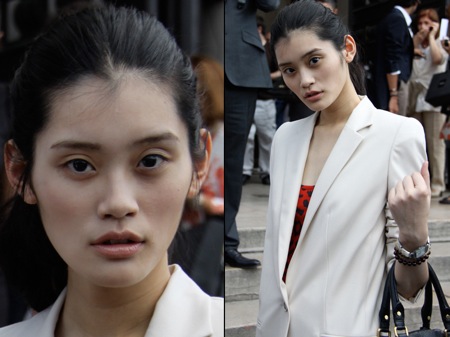 In January, Ming walked for Givenchy Spring 2010 Couture. Ricardo Tisci and his team are known for using models exclusively for Givenchy – and Givenchy girls are girls with strong bone structures and a certain dark and mysterious appeal. Ming Xi was the first Asian girl that was a Givenchy Couture exclusive. She not only walked the Givenchy shows, but was also cast to play a sensual girl-on-girl love story with Mariacarla Boscono on the Fall 2010 campaign.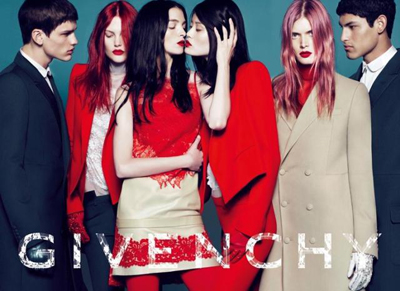 This campaign was particularly controversial for the appearance of Tisci's fit model, Lea T., who was not born a woman. This ad was one of my favorites of the season because they cast two Asian models: Ming Xi and Paolo Roldan (a male model who is of Filipino descent who has also walked a couple of Givenchy shows before)
Givenchy gave Ming Xi her first big break. She is definitely one of the new models to watch. Ming Xi did not get a chance to do Fall 2010 prêt-à-porter in New York due to her visa problem (don't we all hate this?) Technically speaking, this season was Ming's American debut – and what better way to strut her stuff than to open our show?
Follow the jump to read more.

Ming Xi is unstoppable. So far, she has walked our show, Alexander Wang, Richard Chai Love, Peter Som, Jason Wu, Nicole Miller, Edun, Altuzarra, Diane von Furstenberg, Preen, Tommy Hilfiger, Rodarte – and the list keeps expanding while I'm typing this.
It is safe to say that Ming deserves all the attention she could get. From what I heard, she is a very nice girl—with no diva attitude a la Abbey or Naomi. Ming also has a very distinct look, make her different than the typical Chinese girls. She has a deep set of eyes, sharp cheekbones, super-thick hair, strong jawline and what I like the most about her is that her ears are sticking out.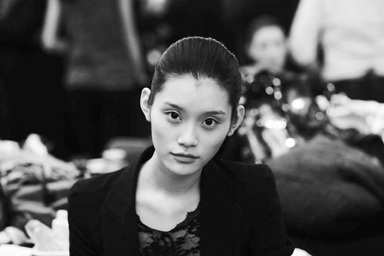 Ming at backstage Jil Sanders Fall 2010
She also has a signature strut. She is one of the girls that was "programmed" to model from birth. It is hard to explain certain walk, but in my own words: Ming struts from the center of her spine with Jessica Stam's arm movements. Stam's arms move more extremely, though.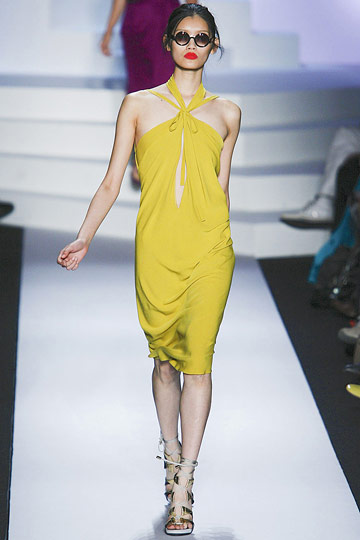 The current batch of Chinese models is the strongest they have had so far. It shows how versatile and various Chinese models are. There is the glamorous Liu Wen, the tanned and youthful Shu Pei Qin, the heroine chic Fei Fei Sun, and the edgy and mysterious Ming Xi. It is important to have varieties because fashion industry tends to have a certain look for models of colors.
Academy of Art University's Spring 2011 show played a big role in promoting models of color. Did you notice how 'colorful' our show was? There was even a redhead model that looked a lot like a younger version of Karen Elson. Now let's cross our fingers that the next 180 magazine will have a model of color on the cover!
Written by: Harry Go
Click here for more of "The World According to Harry"