Dear Marc,
I am a big fan of yours. I adore your taste level. However, I do wish I was old enough to see that infamous grunge collection that got you fired from Perry Ellis. I was only two years old when that happened.
Nonetheless, I love the way you promote yourself to the mainstream. You are the only fashion designer who made it to Time Magazine's 100 Most Influential People — right under Sit Elton John in the "Artist" section.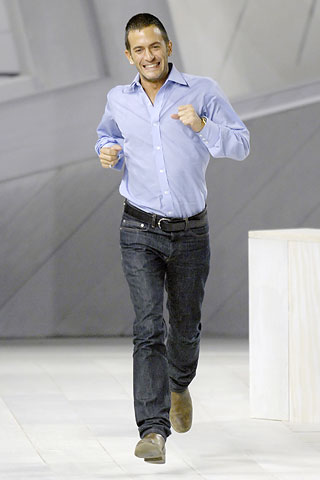 Marc Jacobs in 2007. Photo credit: Style.com
I remember when you started hitting the gym in order to transform from an adorable geek to a buffed, ex-male model type. You're like a good wine — you improve with age. You're getting 'younger' as you age — just like your backwards Spring 2008 show in New York which was two hours late:
When you dated that guy, Jason Preston, I was like "what's his job?" Honestly, I never found out. When he tattooed your logo on his right arm, I knew he was not for you. Then, you met Austin and everyone immediately knew he was not for you.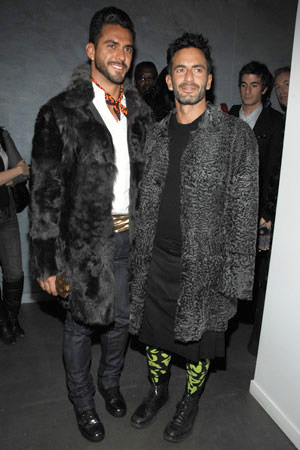 Lorenzo Martone and Marc Jacobs in 2009. Photo credit: Style.com
Then, there was Lorenzo Martone. He's not as bad as the previous two. I thought you guys were so sweet together. It's proven by your engagement. I was so happy for you! One day, I woke up and read a tweet from The Cut Blog that you and Lorenzo were no longer together! I was very shocked. But then, none of you guys confirmed this issue yet. So is it true or not?
I would say, learn from Jack McCullough and Lazaro Hernandez of Proenza Schouler. They're so cute together! If you're not with Lorenzo anymore, next time please find someone your age.
I just want you to be happy.
xx,
Harry
P.S. Feel free to name a bag after me.
Written by: Harry Go
Click here For more of "The World According to Harry"