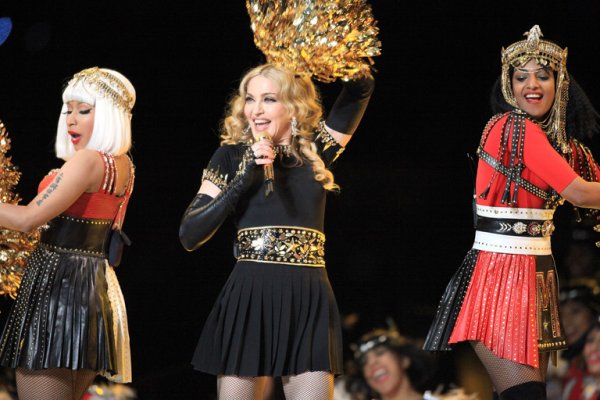 "Come on, Vogue" All Hail the Queen of POP
When we think of the halftime show, we expect to be entertained, but the legendary Madonna, not only entertained millions of fans – she did it the only way she knows how to – in style.
Madonna began her 12-minute performance singing her world-renowned hit song "Vogue." She appeared on stage in a Givenchy gold-sequined cape that was floor-length and seemed to pay homage to Cleopatra. She soon took the cape off, revealing the next Givenchy piece: a black knee-length dress with an added cape, and studded leather plackets attached to a belt. And we can't forget that headpiece, fit for the one and only Queen of Pop. What initially seemed like an ensemble inspired by gladiators and warriors was essentially Madonna's theatricality at its best.
Follow the jump to read more!
After a few minutes of Madonna's performance, there were computer-generated sections of the floor that featured the Vogue logo and photos of the magazine – which was actually planned in January with Anna Wintour. Can we say innovative publicity?! Nicki Minaj and M.I.A. then joined the pop star on stage to sing her new song "Give Me All Your Luvin", with a group of cheerleading dancers, drum majors, and more. She ended the performance singing her classic hit song, "Like A Prayer," in yet another Givenchy piece – a black sequined floor-length coat. Riccardo Tisci, Creative Director of Givenchy, collaborated with Madonna to make sure ALL eyes were on the pop diva, and they certainly were.
Tisci said of his work on the costumes for Super Bowl Sunday: "Following my collaboration with Madonna on her last tour, three years ago, it is a great honor for me to be a part of yet another historical and iconic moment." Definitely history in the making! In the end, Madonna disappeared in a puff of smoke as the words World Peace were projected onto the field. What a majestic performance, fit for a true queen.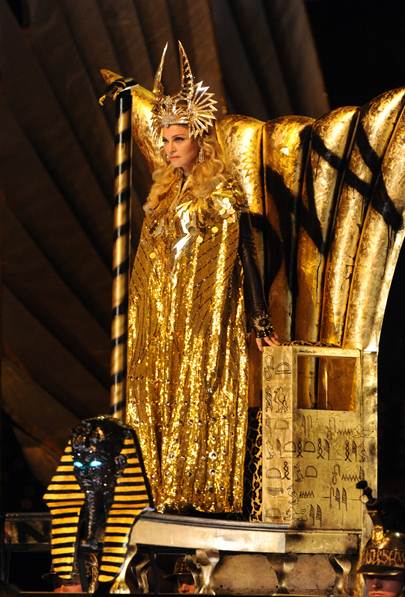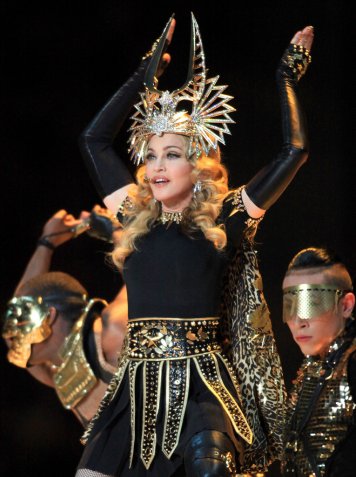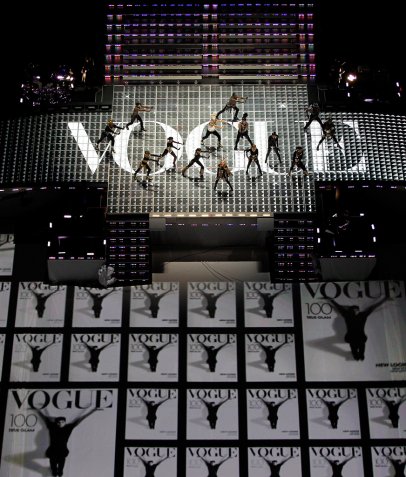 Photos Courtesy of Wire Image.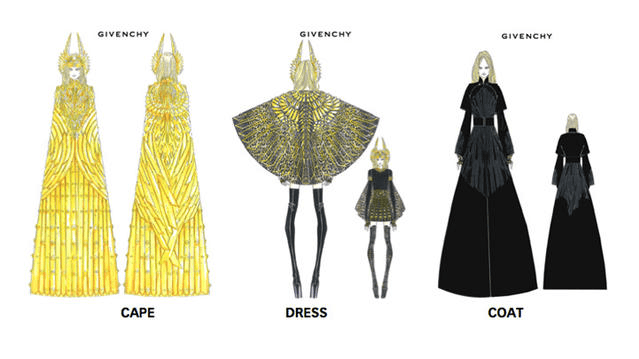 Sketches Courtesy of Givenchy.
Written By: Henny Jacobs