I've graduated! And I have been really busy celebrating!
On the last day of class, my friend Jennifer and I headed to the SF Symphony's Black and White Ball. We had a few weeks of dress-drama preceding the event, but we had a blast. We worked on our salsa moves, saw Kool & The Gang, and ate lots of sushi. The celebration has continued throughout the last week, with tons of brunches, dinners and other festivities.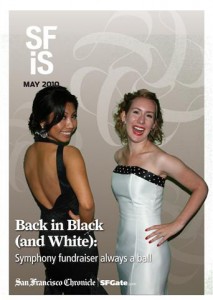 We got fun magazine cover mock-ups at the ball. Love it!
The funny thing about graduating is that suddenly everyone wants to know what you're going to do. That's a really good question. For now I'm interning with Bay Bella Publishing. They make Bride Nine and Mocha Bride magazine (you've seen FSD blogger Erin on the cover,) working on my lifestyle company, and launching a website that's basically a "Hot or Not" for dresses. On the site, girls and designers can share their favorite frocks with the planet.
In the meantime, I'm trying to keep up on The Wall Street Journal and working on shameless social climbing.
Written by: Kalla Vieaux
Click here for more of 'The Kalla Chronicles'