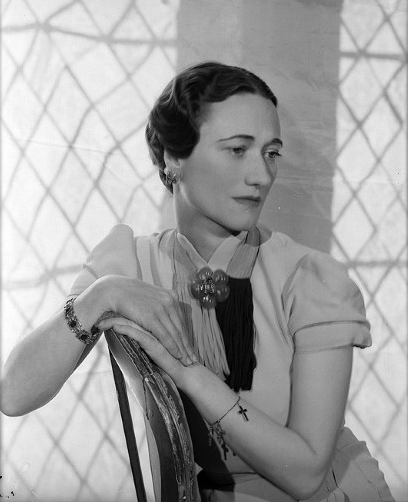 Wallis Simpson, the Duchess of Windsor, posing for Cecil Beaton. She is wearing her cross bracelet, as well as a necklace by the avant-garde French jeweler Suzanne Belperron and other items. Photo Courtesy of the Cecil Beaton Collection
Wednesday evening, the School of Fashion and the School of Fine Art Sculpture hosted a presentation by the American Society of Jewelry Historians on the Jewels of the Duchess of Windsor. Carol Elkins, a Senior Vice President of Sotheby's Jewelry Department, presented the stunning collection of jewelry, detailing the (somewhat scandalous) love affair of the Duke and Duchess of Windsor.
Wallis E. Simpson (the Duchess) met the Duke of Windsor, then Prince Edward, when she was still married to her second husband, Ernest Simpson. The Duke quickly fell for the heiress, whom he often saw at social events, and they began a love affair. He showered her with gifts of the most exquisite jewelry, a habit that would last throughout their courtship and marriage, each inscribed with a personal message of his love. When the Duke's father, King George V died, he ascended the throne as King Edward VIII. He continued to keep company with Wallis, causing outrage among the royal family and the public. Even more scandalous was his intent to marry her. The royal family and the government simply would not allow the King to marry the twice-divorced Wallis, and rather than lose the woman he loved, King Edward VIII abdicated the throne. He was given the title Duke of Windsor, and Wallis became the Duchess, though was not given the title of Royal Highness.
Follow the jump to read more!
They lived happily together for the rest of their years. He continued to shower her with precious gems, and she became an international style icon. The collection of the Jewels of the Duchess of Windsor is truly breathtaking, and Carol's presentation, full of humor and wit befitting the Duchess, was a real treat.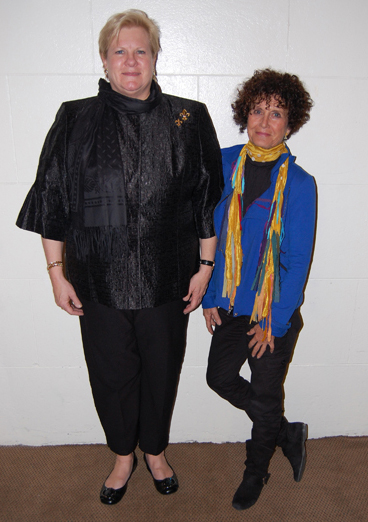 Guest lecture and Vice President of Sotheby's Jewelry, Carol Elkins and Charlene Modena, Director of Graduate Fine Art Sculpture
P.S. The Duchess of Windsor and our Look-Book and Who's That Gal? of the week, Miss Eleanor Lambert, knew one another. Talk about the right social circles.