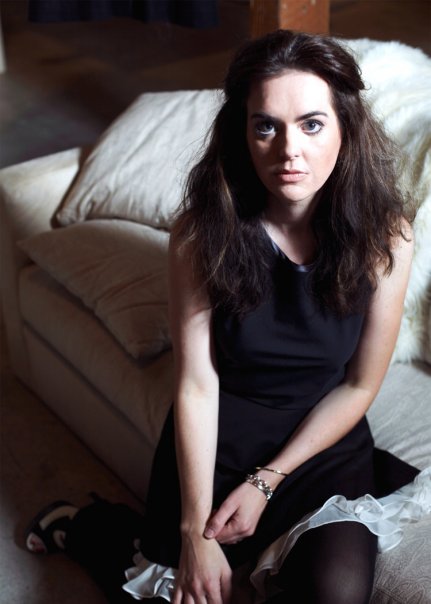 I met Sara (pictured left) over two years ago when I enrolled in her CDFP 4 class (Construction, Draping, Flat Pattern 4).
I had always enjoyed my CDFP classes very much because I felt more comfortable working 3-D rather than 2-D. Even though I struggled with new concepts and gaining a grasp on constructing my own designs, it was a turning point in my education. It was, as they say, "when the light bulb went on." I never thought I was naturally talented at design, so it might have taken me a little longer for the bulb to light, but I was extremely tenacious in my pursuit to learn and excel in my chosen field. Sara was there to answer my endless list of questions, to challenge me to find the answer, and broaden my knowledge of how to engineer my garments. She also handed me the idea that there were many ways to sew and construct and that even though every way might be correct, that I had to find which way worked best for me. As a result I developed stronger sewing techniques. Her teaching style was also very structured, something I welcomed with open arms. It also became something I adapted into my regiment and work ethic.
One day in class Sara mentioned she was working on her collection and looking for future interns for the summer semester. I was elated. I had been looking for an internship not only to fill my credits for upcoming summer school, but I also to fill an empty spot I had mapped out on my resume. A week or so later backstage at the Academy fashion show, I asked Sara if she would consider me for the position of an intern. She said yes. Another classmate of mine also inquired about the position, so Sara not only adopted one but two interns.
Tara Bradley was the other intern who worked the entire summer with Sara on her S/S '08 collection. We took to working in Sara's studio like butter on bread. We learned everything from organization of the collection, styling elements, fittings & alterations, and the actual construction of the collection. It turned out to be a fantastic learning experience from the beginning to the ending of a collection. It was just what both Tara and I needed going into senior collection.
Senior year came and went fast through collection. Before I knew it, I was walking across a stage, diploma in hand graduating. And not far after graduation I passed from one major city to the next, New York to London and back to San Francisco. I kept in close contact with Sara. I shared stories and she offered me advice from her British upbringing. Once I decided I was coming back to San Francisco, Sara offered me a position with her company.
The dynamic has changed only a bit. Now, I not only look at her as a teacher, but a friend, a boss, and a teammate. We work together on figuring out solutions for the collection. She does have final say since the company is called "Sara Shepherd," but it is also still a learning experience for me. Since I am a graduate and I have my own set of skills, she expects me to participate in the design and construction process.
My favorite part of work? I get to work 3-dimensionally almost always, which means sewing and pattern drafting all the time. The construction and engineering is my favorite part of the design process. And also, I get to go to work actually liking my boss.
There's always something to do and none of it is ever boring. Well, unless I get "pimped" out by Sara, by mistakenly offering to wash the dishes. Hard days for me are when I cannot achieve the goals that I have set for the day. Such as an "off day" I had last week when I could not draft this dress for the life of me! Sara wanted a specific silhouette, and for some reason I could not get the shape right. And it made matters even worse realizing this was the simplest piece of the collection. Sara finally stepped in after many failed attempts to offer her suggestions. In the end, we achieved the correct silhouette and shape.
Click here to read more from The Alyssa Diaries.