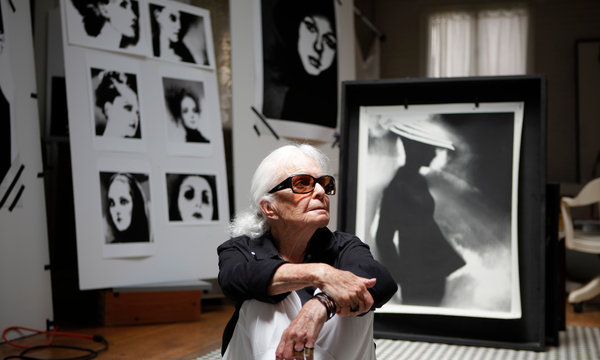 Photo Courtesy of Damon Winter/NY Times.
The woman pictured above, surrounded by her beautiful photographs, is fashion photographer Lillian Bassman. She gained notoriety as a fashion photographer in the 1940s and '50s, and was one of the only female photographers in the industry. Her photographs are some of the most influential works of the 20th century, she was known for creating a stark contrast between dark and light. Richard Avedon once described her style as rendering "visible that heartbreaking invisible place between the appearance and the disappearance of things."
She became disillusioned with the profession in the late 1960s, as models became supermodels. "They were not my kind of models. They were dictating rather than taking direction," she later said. She destroyed many of her negatives during this period, and left the world of fashion photography behind. But, in the early 1990s, a bag of her old negatives was found in her garage by Martin Harrison, a fashion curator and historian who was staying at her home. He encouraged her to re-examine them, and she was once again inspired. Using various printing techniques to transform the images, Bassman developed her photographs, and gained popularity with a new generation. Sadly, Mrs. Bassman died on February 13th, at the age of 94. Fortunately we have her photographs to admire and inspire us.
Follow the jump for the answers to the clues and to see some of Lillian Bassman's greatest photographs!
Clue #1: Harper's Bazaar– Lillian Bassman got her start in the fashion world working as an assistant to acclaimed Harper's Bazaar art director Alexey Brodovitch. He recognized her talents immediately and took her under his wing.
Clue #2: Barbara Mullen– Barbara was one of the top models at in the 1950s and 1960s. As the only female photographer, LIllian was able to establish a rapport with many of the models she worked with. She and Barbara were particularly close, later saying, "The two of us would dance. We understood each other."
Clue #3: Bleach – Lillian had experimented with different printing techniques in the 1940s, and revisited these techniques when she developed her photographs in the 1990s. Using bleach and other toning agents, she was able to create more abstract, mysterious prints – accentuating the contrast of light and dark.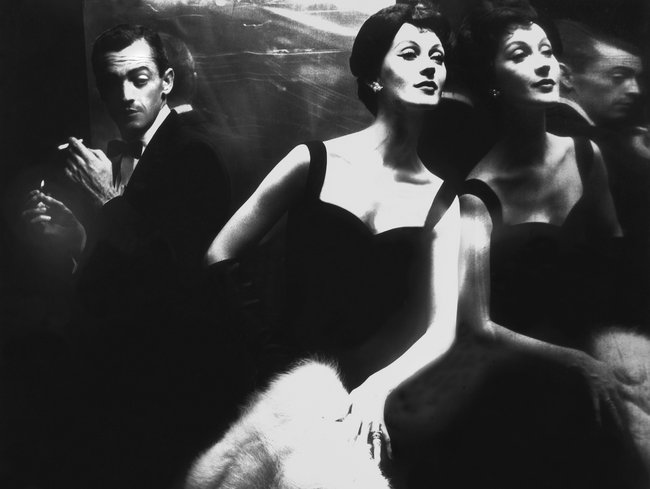 Lillian Bassman's "Dovima, New York" (1954, reinterpreted in 1994), from "Lillian Bassman: Women". Photo Courtesy of Abrams.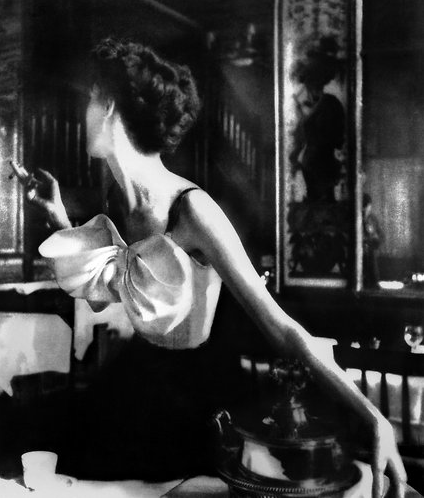 Barbara Mullen in a dress by Jacques Fath, 1949. Photo Courtesy of Lillian Bassman. 
For more of our Who's That? Contest, click here.