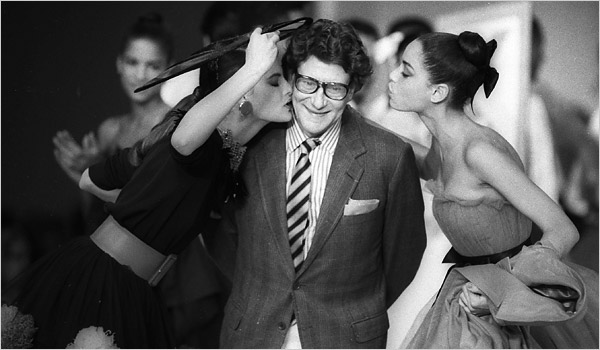 Yves Saint Laurent at the end of his fall show in Paris in 1987. Image courtesy of  Luc Novovitch/Reuters, NYTimes.com
For today's "Throwback Thursday" , we have an early highlight of one fashion's most influential couturiers: Yves Saint Laurent. The French designer, largely credited with changing the way modern women dress (read: the iconic "le smoking" tuxedo, putting women in pants for day and night, and leopard prints to name a few), is the upcoming subject of not one, but two, biopics currently in production.
Our video today, though, is of a young, dapper YSL on the 1960's game show "What's My Line?" From the contestants' hysterical, blindfolded interrogations of the "mystery" guest, to the designer's endearing, sometimes confused, responses to their questions, we hope you enjoy watching as much as we did! #TBT
For more "#TBT", click here.