Suzy Menkes, fashion editor of the International Herald Tribune and a one-time guest of the school, gave our show a nod of acknowledgment with a write up for the New York Times: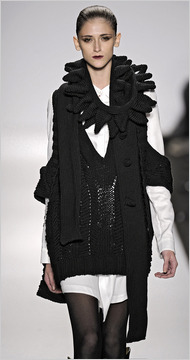 Chris Moore/Karl Prouse
While New York fashion tends toward the dutifully wearable, the San Francisco-based fashion college gave food for thought. How was it possible that clothes from six selected students, with global origins in the United States, Russia and Asia, could seem more inventive and creative than established New York brands?
Now that's a compliment if I've ever heard one.
Read the entire article here.
For more coverage of our show at Fashion Week, click here!