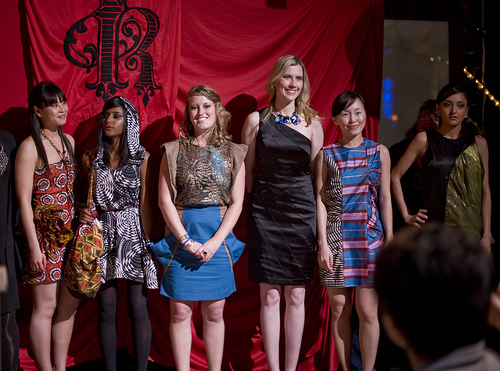 Last weekend, Fashion Merchandising alumna, Courtney O'Kane helped organize and event called Take Wing, a fashion show and benefit for ESL instructor Rebecca Wangh's play Terroristka (coming to the Berkeley City Club, May 2010.)
Fashion students also participated in the event as designers and models while poetry and song took the stage at Cafe Royale on Post Street. Participating students included Katya Garcheva, Kettia Saint-Surin, LaLa Botshoma, Lauren Haut, Leah Mendelson, Wendy Chu, Sasha Nelson, Khristina Jairam, Charlotte Gronseth, Yin Yin Liow, and Mahsa Gharahgozli. Waugh's fellow ESL instructors Maw Shein Win, Masha Rumer, and Sarah Kipperman also participated in the extravaganza.
To see more pictures of the event, click here.