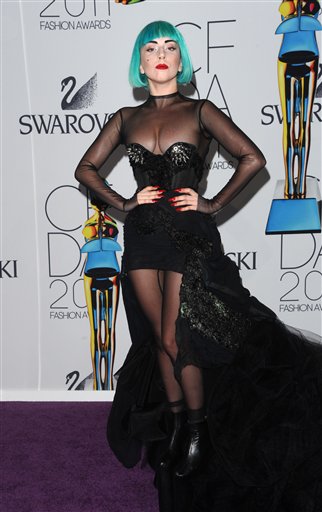 Last night, Lady Gaga won the "Fashion Icon" award at the CFDA Awards. It's been causing quite a discussion in the media and the blogosphere. We decided to ask the students in the School of Fashion what they thought about Gaga's iconic status through our Facebook page and Twitter accounts — and you gave us a lot of opinions:
She has her own unique style that's talked about all over the world. She takes risks like no other 🙂
– @Shereen_S via Twitter
…almost everything she wears is more for show or attention — like a costume, rather than a truly put together everyday look. It's one thing if this award was for "most unique" or something, but this is supposed to be a fashion icon award. Fashion icons are supposed to inspire people with their looks and even cause them to adopt the same or a similar look. They're trendsetters. Gaga doesn't do this at all.
–Yves Dudley via Facebook
She couldn't be a fashion icon. An icon inspires people, and makes their followers want to be like them. No one dresses like Lady Gaga.
–Linzy Allen via Facebook
…what makes her an icon? The fact that she is weird?
–Kurtis Langford via Facebook
She totally deserves it — and im a fashion & costume design student who dresses just as outrageous on a regular basis. Also, I dont believe the likes of Alexander McQueen, Thierry Mugler and the fashion genius Jean Paul Gaultier would have anything to with her UNLESS she was a lover and wearer of high fashion and couture.
–Sorian Grey via Facebook
What are your thoughts? Now's the time to chime in!