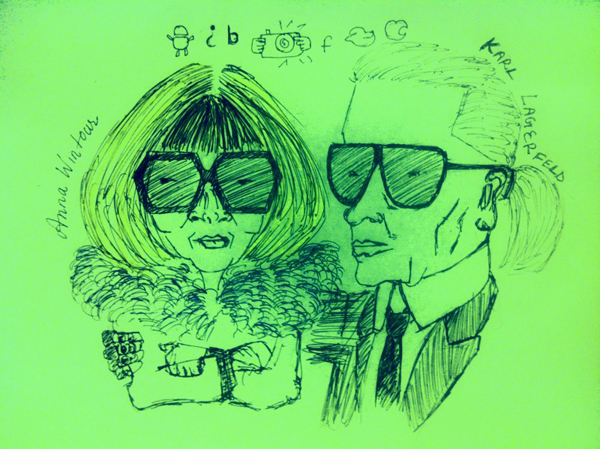 Anna and Karl
Our latest Student Spotlight highlights the work of MFA Fashion Merchandising student Kirandeep Kaur. But contrary to the norm, the work that caught our eye was no class project, its actually something she does in her freetime – draw. Her humorous doodles depict everything from fashion favorites like Anna and Karl to the artist herself in the throes of a marketing project. We asked Kirandeep (KP as she's known by friends) to tell us a bit about herself, and instead of submitting a standard bio or Q+A, she wrote an epic poem telling her life story–complete with an awesome rhyme scheme.
Follow the jump to learn more about Kirandeep and check out her humorous illustrations!
Everyone in this world likes a story,
Of fame, fortune, pain and glory;
My story is confusing, amusing and a little snoozing
Some times of winning and sometimes of losing;
From far away land this journey began,
A country called India and a Punjabi clan;
My father a Colonel – a man of steel,
Always around discipline and seven course meals;
To some this side of life may appeal,
To some this story may seem unreal;
Moving like a gypsy from cities to town to beach,
Moving to another town by myself to study fashion was merely an impeach;
Studying fashion in undergraduate was just an escape,
Learning how to cut, sew and do the drapes;
I was merely confused as to what I was doing,
As my relatives were giving me their clothes for mending and sewing;
My mother wanted me to follow her path,
To be a TV anchor or teach children Math;
All the debates and declamations I was made to take part,
And people thought becoming a lawyer would make me look smart;
With the BSC fashion degree I still didn't know whom to follow,
I joined Ernst and Young, did taxes and imparted speeches to my fellows like the Oracle of Apollo;
Came back to my family and home I was still confused,
The song "Save Me San Francisco" on my mind it always cruised;
I rediscovered music in my life as it kept me sane,
The Kinks, John Lennon, Ray Charles and Elvis became a part of my brain;
I thought of continuing to study fashion,
And convinced everyone that it is my passion;
Applied to AAU which was another elope,
Packed my luggage in search of new hope;
As soon as the plane landed–and what did I see?
Cable cars, different people and the vast sea;
People were happy, the homeless had clothes and crowds were making merry,
Sitting at Starbucks, eating Hamburgers and drinking beer and sherry;
My father has always been saying – "You love adventures,
And sending you to States is a risky venture";
Classes began and a new chapter unturned,
About me my marketing teacher was a little concerned;
All students were MACs and he called me a PC,
I was the nerd amongst the fashionable hes and shes;
I needed to discover the 40% creative part of me,
And to start using iCloud and stop burning CDs;
My partner for the project was like an American Idol,
All fancy, smart and pushed me to the level of suicidal;
I went crazy to the level of doing in-depth research,
Made the myth come true that Indians are geeks and Google is our church;
I was a changed personality within a semester,
I was a crazy researcher and not merely a jester;
But one side I hardly showed was my cartooning expressions,
Which I draw when I am happy or in depression;
It is merely an escape from the outside world,
A place of my own where all the lunatic thoughts unfurl;
I hope it was not as boring as you thought,
Because I am still a buffoon who sees humans as colorful polka dots;
This is the third time I am heating my tea,
I keep getting lost in my imagination spree;
TA DAA!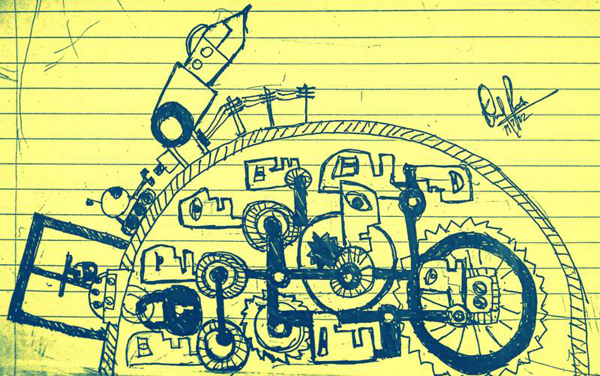 My Brain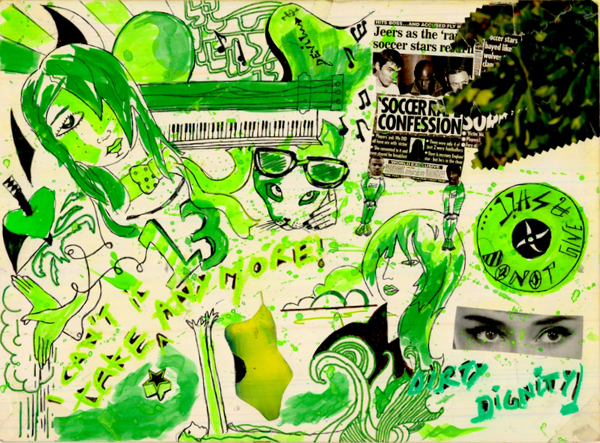 Sins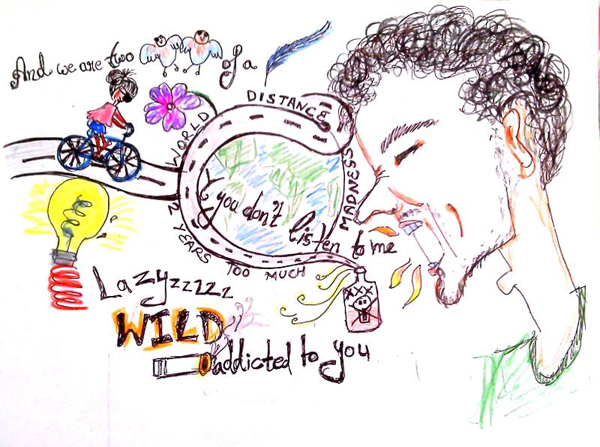 Song – If It's Love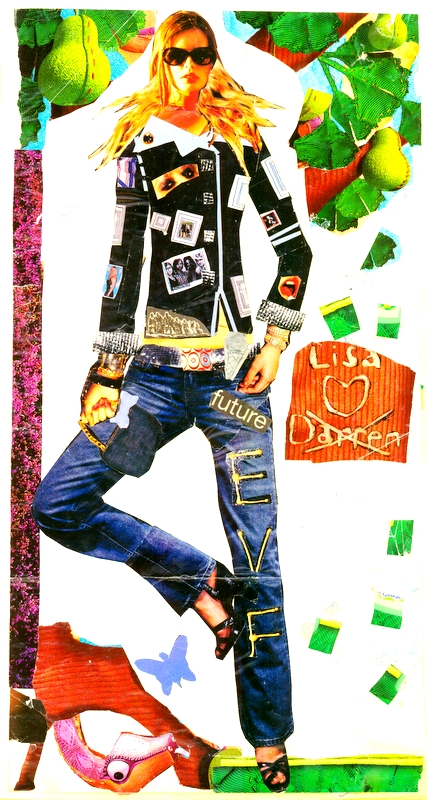 Collage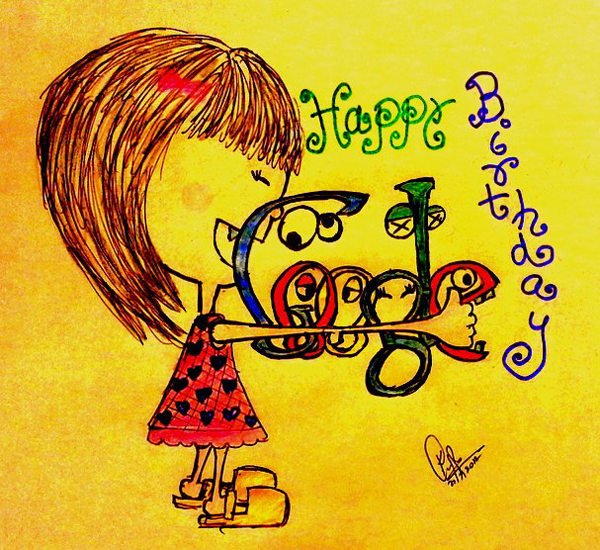 Happy Birthday Google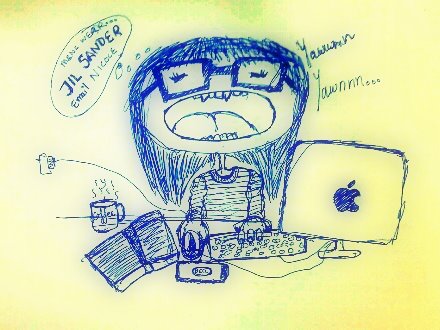 Marketing Project – Jil Sander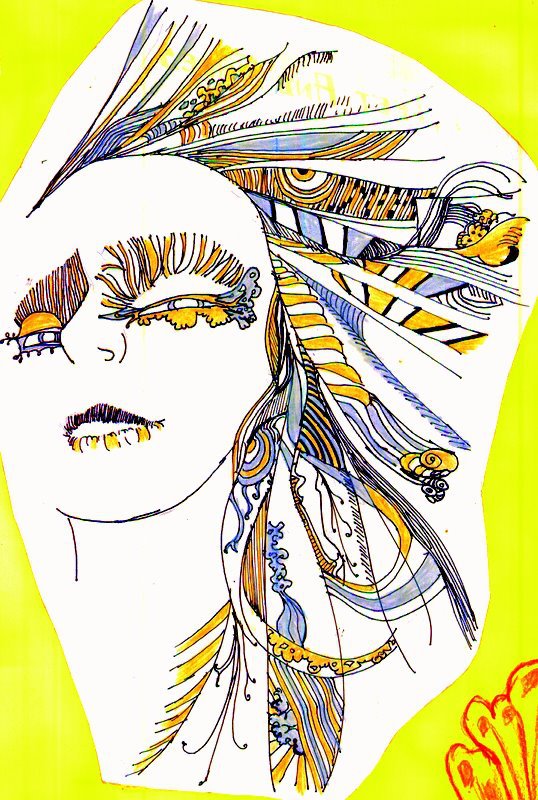 Flora and You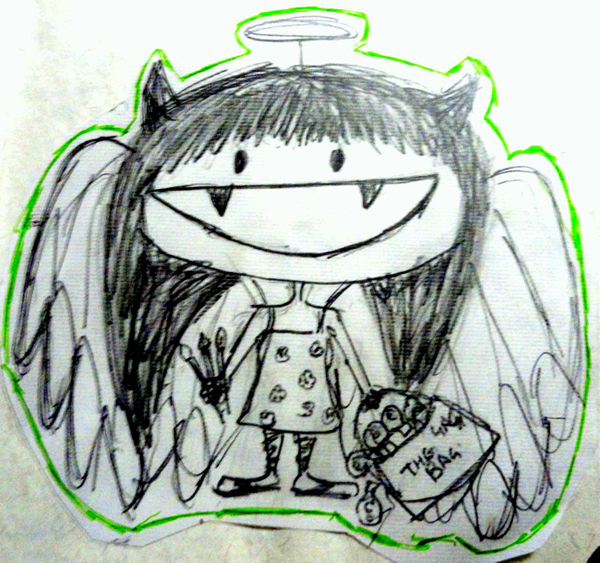 This is Me
For more Student Spotlights, click here.