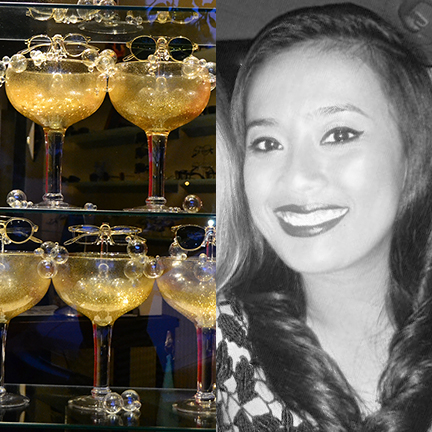 Fashion School Daily couldn't believe our eyes when we saw the window that BFA Visual Merchandising student, Joniffer Uson, designed for WINK Optometry in Mill Valley. The eyewear retailer had reached out to the School of Fashion after seeing the Wilkes Bashford window Zachary Blumenfeld had designed, and Joniffer jumped at the opportunity. From her start as a middle-school style maven, to the champagne-shaded inspiration for the window WINK is calling a "masterpiece", you don't need 20/20 vision to see the talent of this rising star student.
When did you first become interested in fashion?
I think my love for fashion started when I began to notice the clothing my mother dressed me in. It didn't occur to me until later in life that my parents were both fashionistas themselves, and were always aware of what was in style. My interest was also piqued when my Auntie, who lived in Japan, would come and visit us here in California. She always had on the best outfits and most interesting accessories. She would give us the Japanese fashion magazines she had bought for her to read during her flight. Once she was done with them, my sisters and I would go through all the pages, front to back over and over again. The best was when it was time for my Aunt to go back home, she would leave some of her amazing clothes for us to have! We felt like we had died and gone to heaven…her stuff was THAT amazing! That's where my love for fashion took off: the way fashion made me feel, the positive reactions I would receive from people around me and the fun it would bring on a boring day. It has kept my fuel for fashion alive. I was the small Filipino girl walking down the halls in middle school with blue plaid pants with a tight, cropped, three-quarter, sleeve knitted sweater, or acid washed jeans with a hot pink Power Ranger shirt with temporary pink hair dye. I wouldn't necessarily say I was fashion forward but, hey, I was 12! Fashion has so many branches to it, and so much inspiration can be found in a garment, magazine ad or window. There is always something to look at, something new, something that will always catch your eye.
What drew you to Visual Merchandising? What has been your favorite thing about this course of study at the School of Fashion?
Before enrolling in the Academy of Art University, I was in the Dental field. (I know, the transition is completely on two different spectrums!) It wasn't until I had to stop what I was doing to realize, this isn't what I wanted to do for the rest of my life. Fashion was always my passion and something that I wanted to pursue. I was looking into the Academy of Art University, and wanted to know both the business aspect of the fashion industry while still being able to use my creative side. Visual Merchandising was the perfect fit. It was not only a way for me to exercise and discover more of my talent creatively, but it also taught me that it is a form of silent selling. It's a mixture of both creativity and business, exactly what I was looking for.
My most favorite thing about this course of study at the School of Fashion is the freedom of being an artist. You are able to explore what your mind has been wanting to let out… and of course Pete's Coffee that is right around the corner of the Polk building.
[justified_image_grid row_height=400 height_deviation=50 ids="25067,25068″]Joniffer's designs for the Visual Merchandising program at the School of Fashion. Photos courtesy of Joniffer Uson.
Tell me about the inspiration for the Wink Optometry windows?
When contacting WINK, I asked them if they had a specific line they wanted me to showcase. They told me they wanted to mainly feature Barton Perreira's line of champagne colored glasses. I pulled inspiration from the appearance of the glasses. They had an old school look that seemed taken from a time capsule from the 20's with their horn rimmed appearance, interesting bridges and colors of celebration. It reminded me a lot of of The Great Gatsby. The props that are in the window are both found props and handmade. I also had to keep in mind other aspects such as target market, the demographics of the area, and to still make sure the window would be interesting and would get people's attention.
[justified_image_grid row_height=400 height_deviation=50 ids="25071,25072,25073,25074,25075″] Joniffer's Gatsby inspired window display for WINK Optometry. Photos courtesy of Joniffer Uson.

If you could design the displays of any windows in the world, where would they be?
No doubt, Bergdorf Goodman in New York. They just bring you into a whole other world when looking through their window. They're displays that could be looked at for hours on end, and the viewer will still find something new that hadn't seen at first. I hope to be part of that team of magnificent visionaries.
Any big plans for the summer?
This is my first summer that I am not taking any classes, so I'm taking full advantage of that! There will be a lot of road trips to who knows where and discoveries of who knows what.
What are you currently obsessed with?
I have such an obsessive personality that I become obsessed with EVERYTHING! Black and white stripes, my 1975 Honda 400f cafe racer, redecorating my apartment, food, high-waisted anything, black and tan ice cream with hot fudge and caramel… the list could go on and on.
Check out Joniffer's window display in person at WINK Optometry, 70 Throckmorton Avenue, Mill Valley. For more "Student Spotlights", click here.