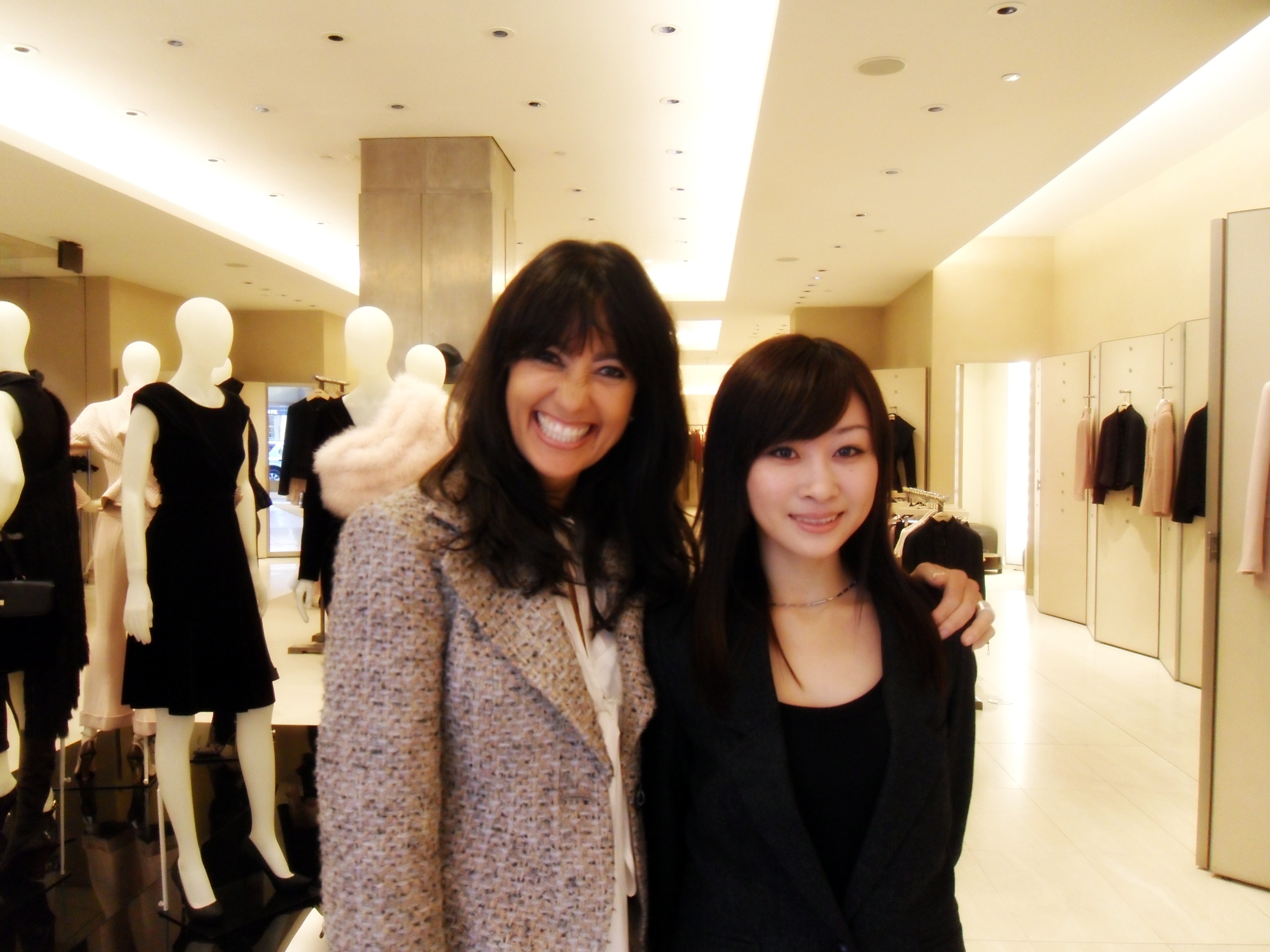 Ami Wang with Armani Men's Department Manager Maritza
Ami Wang is a B.F.A. Fashion Merchandising student in the School of Fashion. We chatted with her about her experience working at the Atelier, her new internship with Armani, and her plans for the future!
You were part of the class that helped to re-open the Atelier last year. What was that experience like?
It was an exciting experience. I witnessed and was involved in the transformation of Atelier from an Art Gallery to a multifunction retail store which not only offers a stage to showcase the students' art work, but also allows their creations to be purchased by the outer world. This opportunity redefined the value of these works for the artists, giving them connection, confidence and credibility in their future career.
What was the most valuable lesson you learned while working at the Atelier?
As part of our team I contributed to the launching of Atelier and learned a lot from a merchandising perspective. I've given proposals to market Atelier and incorporate social media tools to promote the concept. I've built an experimental Atelier Blog (http://atelieraau.wordpress.com/). My 13 weekly hours working in the Atelier store also helped me to familiarize myself with a real retail environment. I got practise in areas such as giving customer service and communication, inventory control, Point of Sale cashier system, visual display and event planning. All these were the foundation that benefited my current internship at Giorgio Armani.
You recently started an internship at Armani on Post St – what are you doing with them?
My position at Giorgio Armani is the store assistant in the Men's Department. I help with merchandising and product display to maintain the floor to Mr. Armani's standard. Fortunately, I am given the opportunity to sell and provide customer service. I also was involved in the Giorgio Armani seasonal Made-To-Measure event. In addition I help with the Women's floor and the Shipping & Receiving Department when it's not busy at Men's.
How did you find the internship and what was the interview process like?
I submitted my online application to the official website. And thanks to the advice from Mrs. Sharon Murphy and my Career Management instructor Clarissa Nicosia, I had a well- polished resume and portfolio which made me stand out amongst the competition. I got a phone call two weeks later and followed with three intense interviews the same week from the Store Manager, Men's Department Manager and the Senior Sales Associate. The interviews went smoothly and I was offered the position immediately.
What has been the most challenging thing about working at Armani so far?
I would say the first day. Because I was unfamiliar with everything and I was so eager to learn. Otherwise, I love challenges and everyday is getting better. I'm learning new things each day and becoming more mature handling different work situations. The most gratifying thing is that I have gained recognition from the manager and my colleagues.
What is your most beloved item of clothing and why?
A black 100% cashmere men's classic over coat. Giorgio Armani is known for its classic items with effortless design and exquisite tailoring. 100% Made in Italy, Giorgio Armani is all about the fit and the fabrics that define a luxurious experience.
What is your dream job?
Currently, I just want to grow with Giorgio Armani and prepare myself for any future potential career opportunities. I'm ready for new challenges!
Good luck Ami!
For more Student Spotlights, click here.