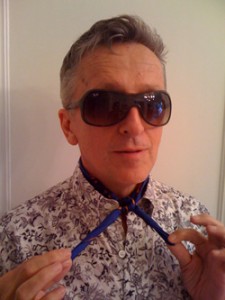 Reading Simon Doonan's articles on Slate.com is always a treat. He gives such great snarky commentary on fashion and culture. He especially shines when he gives the masses guidelines on how to live an ideal life of style.
Last week, he wrote a piece titled, "Braless in the Office: Guidelines for appropriate summer attire." I don't think I need to tell you what he focuses on.
In it Mr. Doonan says, "There are no longer any standards for work-wear. Gals with sleazy biker tattoos trade derivatives. Human resource directors sport Snooki bumps whilst jacked up on seven-inch porno-pumps. We are living in a wear-pasties-if-you-feel-like-it arcadia."
He makes a great point. In fact, his point is spot-on.
Since many of you are newly graduated, perhaps you should take some of his pointers on how to dress in the workplace. here are a couple of his do's and don'ts:
DO wear prairie-themed clothing. The hilarious incongruity of tiered skirts and conch belts in a commercial midtown high-rise will always amuse and delight your colleagues. Ralph Lauren. Ralph Lauren. Ralph Lauren.
DON'T blend in. You will garner more attention in the workplace, and possibly a promotion, if you adopt a signature flourish. This also applies to we dudes and most especially to wee dudes like me. While Steve Jobs has his black turtleneck, I have adopted the jaunty knotted neckerchief as my gesture-du-jour. Inspired by '70s geezers—think Robert Evans with a dash of Charles Nelson Reilly—I am knotting up a storm this summer. If you feel inclined to follow suit then raid your grandpa's haberdashery drawer and steal some of his old pocket squares. (They are exactly the right length to fit around your neck with a couple of dangly ends to spare.) Printed cotton is best. Silk tends to look a little too foofy. And we don't want that now, do we?
Very good pieces of advice if I do say so myself.
To read the entire article and a full list of his do's and don'ts, visit Slate.com.