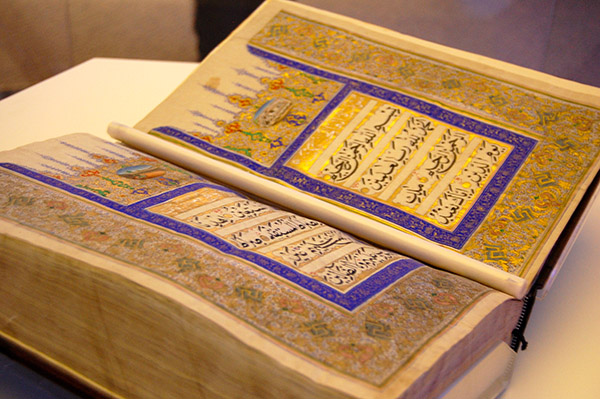 A stunning hand-painted Qoran at the National Museum in Riyadh.
The second phase of our Saudi Arabian adventure for the Harvey Nichols Design Project began in Riyadh, the country's capitol. Riyadh is a desert city, with a distinctly different feel from Jeddah. On our first day in the city, we visited historical sites and absorbed a wealth of information on Saudi culture. It was really interesting to learn about the history of a nation that is so old and still very new at the same time. Many of their customs and traditions stem from the Arab tribes and Islamic religion, which have been around for thousands of years, but the nation itself was only just unified in 1932, resulting in a melting pot of cultural influences. Riyadh, having been the birthplace of modern Saudi Arabia, is one of the more traditional cities, which was evident as we began to explore.
After our history lesson, we headed to the Souk – a traditional outdoor marketplace. There were some similarities to the market in Old Town Jeddah, but this one was much richer. Stalls teeming with woven textiles and rugs could be found on every corner, antiques were piled high, and the aroma of spices filled the air.
Follow the jump to read more!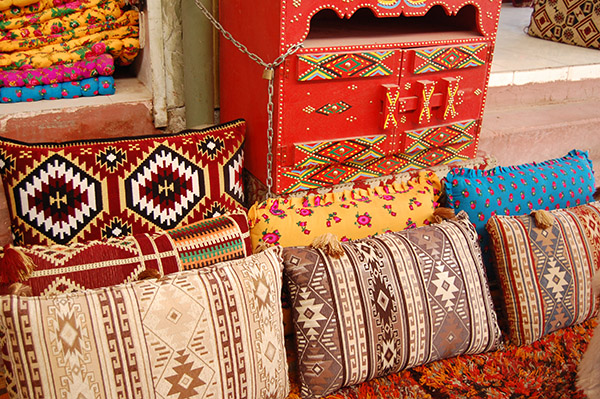 Rugs, textiles, and pillows at the Souk.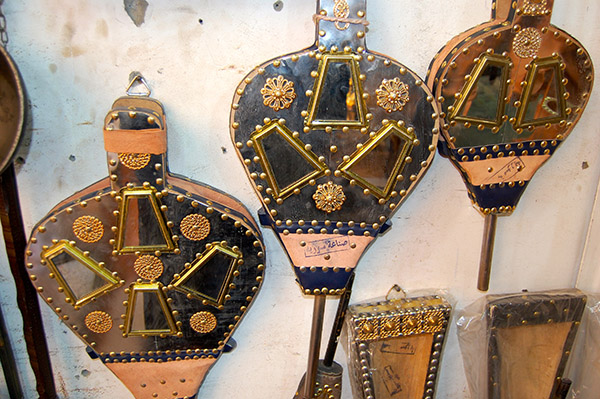 Fans at an antiques stall in the market. 
That evening, we were thrilled to be able to attend an event at Harvey Nichols Riyadh. The event celebrated a collaborative project with Swarovski, highlighting a number of local designers who had created custom pieces that incorporated sparkly Swarovski elements. The event was particularly special as we were not only able to see Saudi women dressed to the nines, we also got a chance to speak with several of the designers. It was enlightening to hear their thoughts on Saudi fashion, giving our designers an insider's perspective on what the modern Saudi woman likes to wear.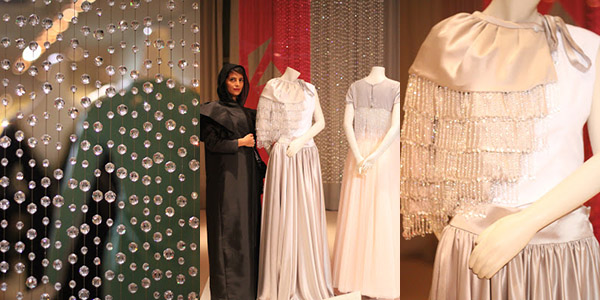 Designer Reem Al Khanal showcases her designs for Swarovski Elements. Photo by Ruba Fahhd.
After the event, Princess Reema hosted a dinner for the designers, Swarovksi team, and special guests, which included a post-meal performance. A group of men performed customary tribal dances that were historically performed before battle. By the end of the night, everyone had joined in the fun, mimicking the steps or just making up their own.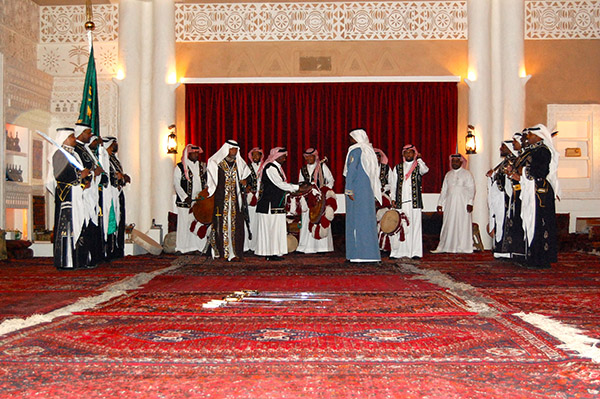 The Saudi dancers performing for the crowd.
The following day began with a visit to one of Riyadh's premiere boutiques, Maison Bo-m. The multi-level concept store housed womenswear and accessories from a number of familiar brands, but also featured a gallery/shopping space dedicated to artists and designers from the Middle East. They had recently hosted Riyadh Fashion Days, showcasing the latest collections of local favorites. The garments were brightly colored, and offered a mix of traditional and modern styles. We spoke with Maison owner Faris Al-Shehri about the growing fashion industry in the region, obstacles he has faced, and where he thinks Saudi fashion is headed in the near future.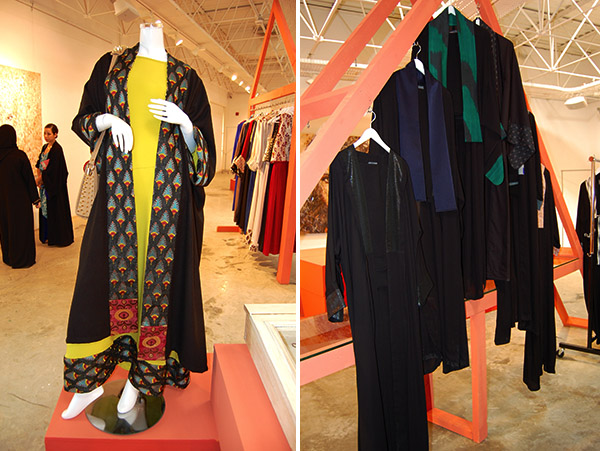 A modern take on the traditional abaya alongside more customary examples of the garment.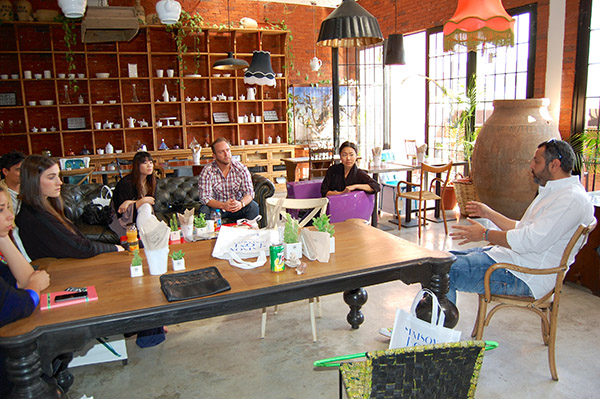 Maison Bo-m owner Faris Al-Shehri talks with students. 
Next, we stopped by the home of Reema's cousin Maha, who generously opened her home – and closet – to our students. Maha was full of Saudi folklore, and her closest housed an enviable collection of vintage thobes and abayas. She had worked at the historical preservation society, and many of her pieces were exact replicas of garments in the archives. The craftsmanship and attention to detail was astounding, offering a glimpse at how clothes had been made decades and centuries before.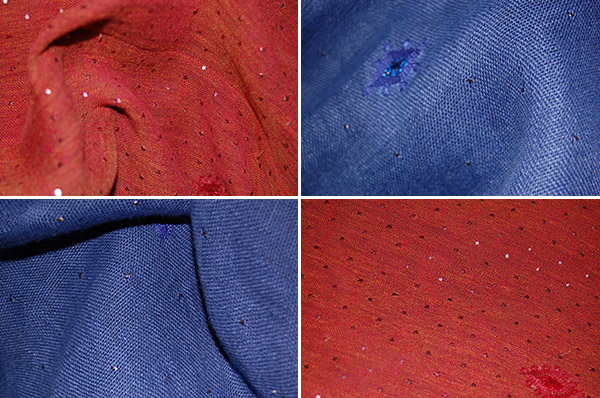 Amazing colors, embroideries, and embellishments on Maha's vintage abayas and thobes. 
Then it was off to D'NA, a members-only boutique serving a very exclusive clientele. The industrial exterior hid a fashion oasis, stocking the latest collections from the most prestigious runways. The carefully edited selection at DNA proved how fashion-savvy the Saudi customer is becoming. They know the designers, they watch the shows, and they know which pieces they want hanging in their closets.
As we made our way home at the end of the day, we were delighted with a surprise from Princess Reema's father – a home cooked Thanksgiving meal. It was a perfect mix of East-meets-West as we sat on the floor in a circle enjoying America's favorite meal, reminding ourselves how thankful we were for this once-in-a-lifetime opportunity.
Thank you to everyone at Maison Bo-m and D'NA Boutique – and thank you Maha for inviting us into your home!
For more on the Harvey Nichols Design Project, click here.