Whenever I go to France, I recall a very special pilgrimage in 1996, to Albi, the home of my favourite artist Henri de Toulouse Lautrec.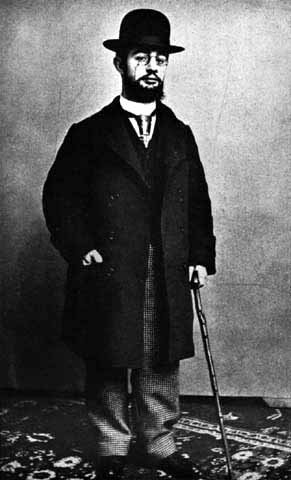 Toulouse Lautrec

It was January, the best time to travel because there are no tourists.
In Albi we visited the family seat and the Musée Toulouse-Lautrec in Place Sainte-Cécile.
The museum was set up by his mother after his death at the age of 36 from syphilis and alcohol — because no one in Paris was interested in acquiring the work of Henri de Toulouse-Lautrec.
The next day we drove about twenty miles from Albi to the family's country house, the Château du Bosc.
It was late afternoon and the sun was turning the snow pink. To our surprise, the Château was open and we saw a tiny old woman in green gumboots pottering about in the garden. She invited us in, we paid the entrance fee and she proceeded to show us around.
She explained that everyone in the family was "born with a pencil in his hand" and after a day of shooting, they drew. Except of course Henri, who was crippled.
We looked at the wall where there were marks to measure his growth (maximum 4'11"). We saw his school notebooks filled with 'scribbles' that displeased his tutors. I was happy to hear this as I too was always in trouble for scribbling.
I remarked that it was fortunate that Toulouse Lautrec was a crippled dwarf because thus he spent his short life drawing and painting in brothels instead of riding and shooting in the French countryside.
My husband, whose French is better than mine, looked at me in horror but our guide was delighted, "That's exactly what we all say!"
When it was time to leave, she told us her name: Nicole Bérengère Tapié de Céleyran, and as my husband surmised earlier, a direct descendant of Henri de Toulouse Lautrec.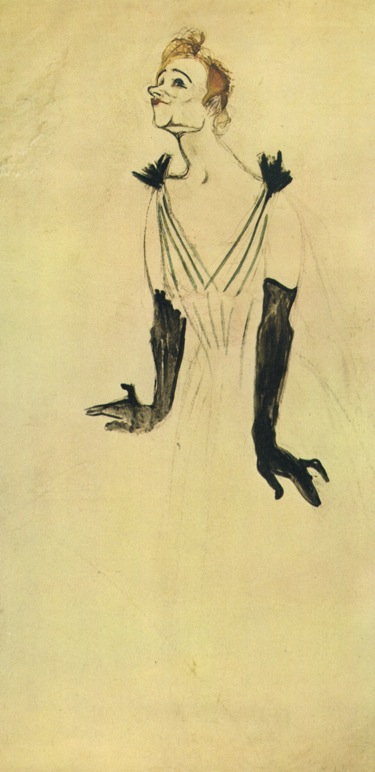 Yvette Guilbert

Written by: Gladys Perint Palmer
Click here to read more of "Picture This" by GPP