It is mid term. Time to think and reflect.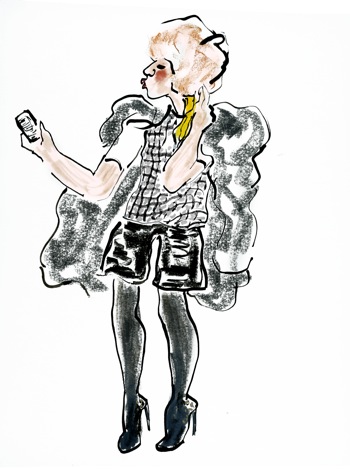 Busyness: the state of constant distraction that allows people to avoid difficult realities and maintain self-deceptions. With the help of cell phones, e-mail and handheld games, it's easier to stay busy than it's ever been.

We are so distracted by and engulfed by the technologies we've created, and by the constant barrage of so-called information that comes our way, that more than ever to immerse yourself in an involving book seems socially useful.

The place of stillness that you have to go and write, but also to read seriously, is the point where you can actually make responsible decisions, where you can actually engage productively, with an otherwise scary and unmanageable world.
— From an article by Lev Grossman, in the August 23rd issue in Time magazine, about best-selling writer Jonathan Franzen who, in turn, refers to the philosopher Soren Kierkegaard.
This is an art school. Substitute the words, 'reading' for a visit to a museum, 'writing' for drawing and 'books' for serious research.
On the other hand, you may wish to read a good book and write an interesting story.
The world will seem more manageable and less scary – especially over Halloween.
Written by: Gladys Perint Palmer
Click here to read more of "Picture This" by GPP