Last week in New York, I visited the Bloomberg empire, at the invitation of Norman Pearlstine, Chairman of Bloomberg Businessweek, who had been at our show (and loved it).
After Bloomberg I went to Bloomingdale's – one block away. There I bumped into Dawn Mello, the woman who hired Tom Ford to design Gucci in 1990.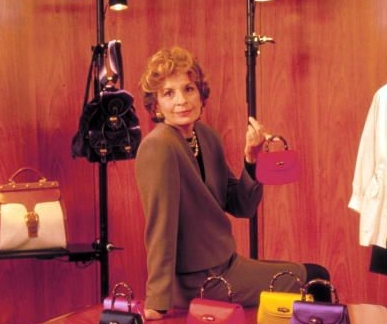 Dawn Mello, posing with Gucci handbags & shoes in 1990. Photo credit: Ted Thai/Time & Life Pictures/Getty Images

Leaning on a cane, the result of a year in and out of hospitals after being hit by a bicyclist, she asked, "Have you seen Tom's show?"
When I started out as fashion editor at the (Hearst) Examiner, Ms. Mello was fashion director of Bergdorf Goodman.
One day in Milan, I rushed up to her in the street and barked a question – I was on deadline and needed a quote.
Ms. Mello, a tall elegant woman, trailed by her team, smiled, stood back and said, "Hello."
I realized how rude I had been and learned my lesson. Now I always say hello first, then introduce yourself, then start barking.
From Bergdorf Goodman Ms. Mello went to Gucci, a tired and unsuccessful brand.
You can Google Tom Ford's success at Gucci, his departure from Gucci, his career as a film director, his return to fashion.
Follow the jump to read more.

Fast forward to New York last week. On Sunday, September 12, Ford held a secret fashion show, and invited a hundred people.
This was the cleverest marketing move.
These hundred (very important) people feel privileged and will talk about the show as though it was the Second Coming. Which of course it is.
I have seen many of Tom Ford's shows (not this one) at Gucci and Yves Saint Laurent. Some were excellent. Some not.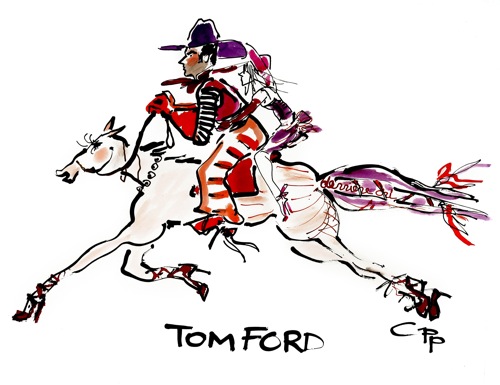 On November 6th 2003 Tom Ford rode out of Gucci into the sunset. His friend and muse Carine Roitfeld slipped off the saddle and stayed put at French Vogue. From GPP's forthcoming book, 'From Eve to Yves'

Tom Ford is a delightful man, a real gentleman. I wish him all the success and next season I will approach Dawn Mello, with great politeness, say Hello, and ask her to get me an invitation.
To read Suzy Menkes's review, click here. To read Cathy Horyn's article, click here.
Written by: Gladys Perint Palmer
Click here to read more of "Picture This" by GPP