Even for the woman whose approach to "equestrian style" is more aesthetic than functional, Patricia Wijaya's latest collection, Dress-age, was daring, feminine and sophisticated. 
On a rainy evening in New York City, the Academy of Art University alumna showed designs that were far from the dreary weather we experienced during the course of this season's shows. Hosted by The Council of Aspiring American Fashion Designers (CAAFD), Wijaya was among a number of emerging global designers selected to present at New York Fashion Week; the result was a diverse and spectacular show. 
Equestrian style starts, naturally, with a love of horses. "I love riding, but had to stop due to a lot of falling," Wijaya said. "I am focusing more on the dressage branch — the horses, saddles and gear for riding, as they keep the horses and riders safe." (The title of the show — Dress-age — is a play on "dressage," the highly skilled form of horse-riding in which riders wear formal attire during competitions.)
On the runway, Wijaya's vison to translate the sport of dressage, which is an official Summer Olympics game, was also realized through the striking accessories showcased with the collection. "The headpieces are 'riding-helmet-meets-the-horse's-ear-net,'" Wijaya explained. These accessories were a product of a creative collaboration between Wijaya and a current Academy of Art University student, Dale Beevers, who is an MFA candidate within the School of Jewelry and Metal Arts.
Beevers explained the process of ideation: " We started with a teleconference to discuss the logistics for the event and from there Patricia [Wijaya] sent her design sketches of the collection, as well as a jewelry mood board for the aesthetic she was going for. I implemented the same approach I use for collaborative projects like this – I took her sketches and then sketched jewelry designs that would complement the looks."

While conceptualizing remotely, the final moments of their collaboration happened in person. "It was important for me to be at the show in person to fit the pieces individually to each model; so I was backstage and fortunate to watch the looks come together. I recall thinking about how stunning they looked fully styled, and how happy I was that the headpieces and various bracelets complemented the designs without overpowering them. The pieces had that perfect mix of drama and suitability that I try to achieve in a project like this," shared Beevers.
Wijaya's color palette throughout the collection was dark blues and golds — which are her brand's colors. Highlights included floor-length gowns featuring netting, velour and laminated organza.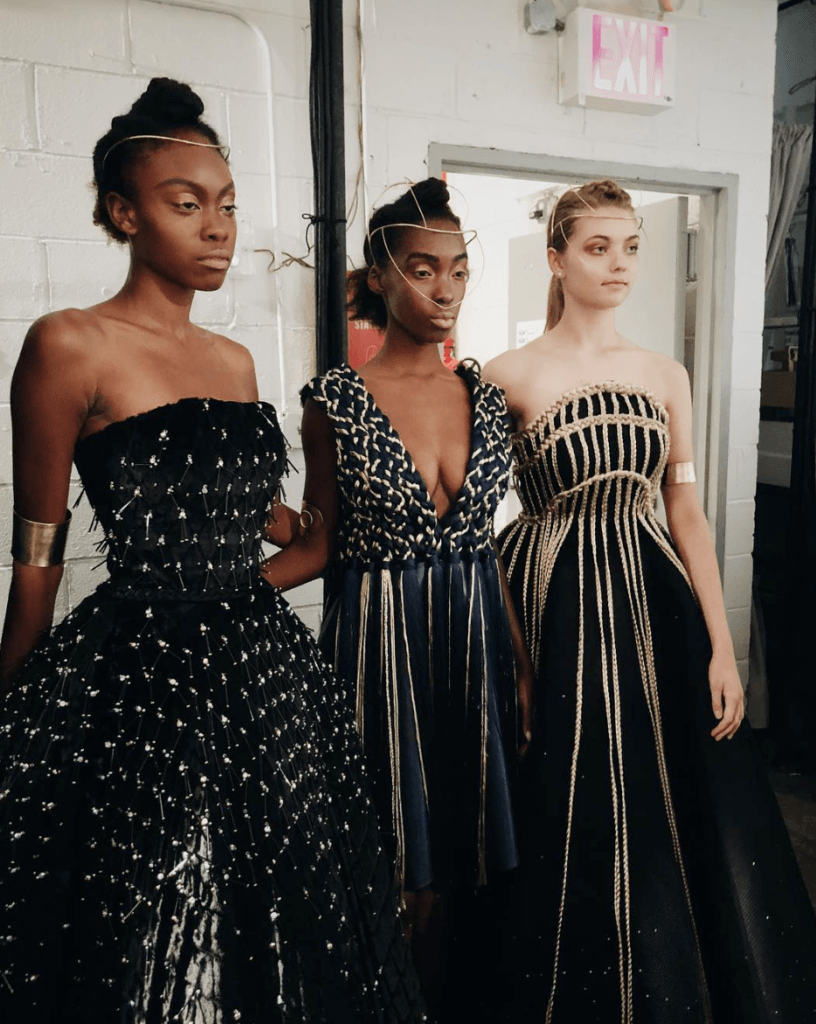 There were several featured motifs, which was a nod to Wijaya's heritage, "Being born and raised in Jakarta, I used a lot of embellishment on the garments; it is what I grew up with. For my designs, it's just a matter of readjusting how I use those elements," she said. For this collection Wijaya included braided fabric that, after various experiments, she came to view it as "a symbol of braiding new relationships and cutting off old and toxic relationships with people in the industry." Additionally, Wijaya featured shoe styles by the Indonesian label, Cava Prive, as yet another acknowledgment to her culture and heritage. 
In 2016 Wijaya started her label after graduating from the Academy of Art University; she remarked that her education and coursework paralleled her experiences of working in the industry. "My last year at the Academy doing [my senior] collection was no different than working in the real world right now," she said and then admitted, "Deadlines are faster in the real world." She added that her time at the Academy brought lasting and fulfilling relationships with professors such as Gary Miller and Robert Curry, both of whom Wijaya said steered her "away from everything that has been done before" and pushed her "to do something different." 
Horseback riding or not, we're galloping with Wijaya's vision. Well done. 
Text By Dairia Kymber, MA Fashion Journalism Alumna and MaShawn Jones, MA Fashion Journalism Alumn