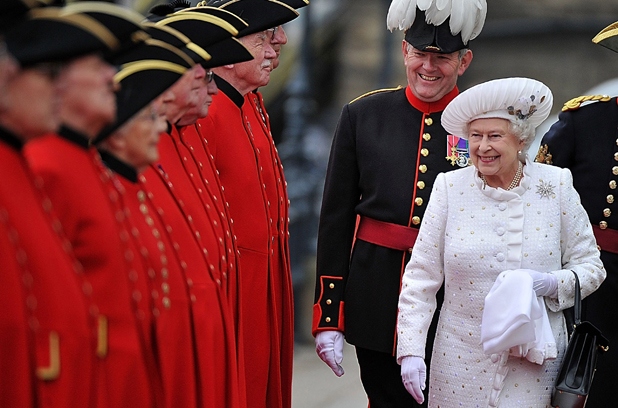 Queen Elizabeth II celebrates her Diamond Jubilee. Photo Courtesy of AP/Bethany Clarke.
Unless you've been avoiding the TV, radio, and computer for the last few days, you've likely heard talk of the Queen's Diamond Jubilee. It is a celebration of Queen Elizabeth II's impressive sixty years on the throne – a feat achieved by only one other monarch in the last 1,000 years. The momentous occasion is being celebrated in London (and the whole of Great Britain) for four days, including yesterday's River Thames pageant. Over 1,000 vessels traveled down the 7-mile stretch of the Thames, past London landmarks including the Houses of Parliament and St. Paul's Cathedral, before ending at the Tower Bridge.
And as with any royal outing these days, the question on everyone's mind has been: What will the royal family wear? Or, more specifically, what will Kate Middleton wear? The Duchess of Cambridge was dressed to impress (as always) in a crimson Alexander McQueen dress, designed by our 2012 Guest of Honor Sarah Burton. The dress, from the Pre-Fall 2011 collection, was customized with long sleeves and a longer hem, in keeping with appropriate royal standards. Another member of the Royal Family, Camilla, Duchess of Cornwall, was outfitted by another of our 2012 Guests of Honor, the fantastic milliner Philip Treacy. Camilla wore a cream dress and coat by Anna Valentine, with a coordinating straw topper by Treacy – the same combination she wore for her own wedding to Prince Charles and for William and Kate's wedding last year.
Follow the jump to read more!
But, not to be outdone on her big day, the Queen rose to the occasion in style. She wore a white dress and matching bouclé coat adorned with Swarovski crystals – an outfit that had been in the works for nearly a year. She paired the ensemble with her favorite set of pearls, the Ladies of Devonshire earrings and necklace, a wedding present from her grandmother, Queen Mary. Her ensemble offered the the perfect contrast to the Royal Barge, which was decorated in red, gold, and purple – we're sure Simon Doonan would approve (in anticipation of the Queen's Jubilee, he wrote a piece on why she is the most fashionable woman in the world – you can read it here.)
We can't wait to see what they royals step out in as the celebration continues!
[imagebrowser id=13]