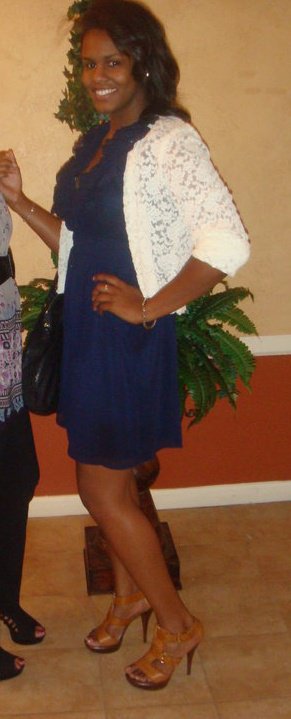 Name: Whitney Holt
Where do you live? Laurel, MD, USA
Area of study: MFA Fashion Merchandising
Day job / occupation: Program Assistant for National Science Foundation/ Mother
What qualities do you most value in others?
Of all things I value honesty and trust.
Depending on your area of fashion industry insiders:
Designer – Vera Wang, Blog – Fashion Bomb Daily (www.fashionbombdaily), Store – It's Vintage Darling (consignment store in DC)
List a guilty pleasure:
I absolutely LOVE LOVE LOVE fashion magazines. I have tons and tons of magazines that I probably should throw away but everytime I try to I find myself somehow sitting down and reading them never making it to the trashcan lol. My favorite magazines are ELLE, W, and Vogue
What is your present state of mind?
I already have a B.A. (Psychology) and currently working on my MFA (Fashion Merchandising). I am very focused on my career goals and and dont allow too many distractions to get me off track. I am past the point in my life where all I wanted was to have fun living in a carefree world. I am very passionate about having a career in Fashion PR/Marketing so it's not work to me, it's simply doing what I have to do to get to my desired level in life.
What is your dream job?
I actually have two dream jobs! I would love to do PR/Marketing for Dolce & Gabbana and be a Professor teaching Fashion Marketing.
 What is the most important thing that people should know about you?
I put my all into everything that I do. I am for teamwork and helping those without wanting anyting in return. I am firm believer that you should help out as many people as you can in life, you never know who you may meet later in life or who you may need.
Follow the jump to read more!
When was the first time you recognized your interest in fashion?
I recognized I had a interest in the fashion industry when I was in high school. I remember that a lot of the girls were wearing NBA Jersey Dresses. I was once a tomboy and had a few jerseys that I kept. Instead of getting a dress like the others, I cut up one of my jerseys and sewed different parts of it on to a jean skirt. I received so many compliments for its uniqueness, I acutally made a few for my friends. From point in my life I began to build on that interest. I went to undergrad for Psychology and when I graduated I realized I was pursuing a dream of my classmates and not my own. So I decided to go back to my "Roots"…. Fashion! and I haven't been happier.
Where have you found inspiration lately?
Most recently I have gained so much inspiration from my (daughter) little fashionista, Kendall Marie who is 7 months old. She pushes me daily to chase my dreams. It is quite difficult being a full time mother, having a full time job, and taking 3 classes on the graduate level but quitting is not and never has been an option for me and will not be one fore my daughter. I've always had a dream of working within the fashion industry, but now I have to make it more than ever! I must be an example for my daughter, I must show Kendall that the only thing that can hold you back in life is yourself.
What music do you like to listen to?
I listen to a little bit of everything but lately I have been listening to Adele, Beyonce, and Cee-lo
If you had an opportunity to travel back in time, who would you like to meet, and why?
I would love to meet Audrey Hepburn and Coco Chanel, I love their simplicity and elegance. They are classic women whose style is timeless.
For more On Online, click here.