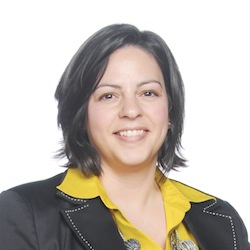 Where do you live? Attleboro, Massachusetts
Area of study: MFA Fashion Design
Day job/occupation: Associate Professor, Massachusetts College of Art and Design
What qualities do you most value in others? Honesty, integrity, and humor
Name three of your favorite designers, journalists, bloggers, stores, etc.: Consuelo Castiglioni for Marni, Ghesquière for Balenciaga, Rei Kawakubo for Comme des Garçons. Oh, can't forget Claire McCardell, definitely a favorite.
List a guilty pleasure: Watching documentaries on Netflix when I should be working, ice cream for dinner, rubber stamps
What is your present state of mind? I'll let you know when I find it. I lost it a couple years ago after my 4th child.
What is your dream job? This is a tough question. To me job equals chore, so I will change that to "what is your dream way to earn money?" My dream is to be happy and find enjoyment in any job I have. But it would help if that job included fashion, teaching, being creative and the summers off…wait, I might
already have it.
What is the most important thing that people should know about you? I put everything I can in to anything I do. I am honest to a fault sometimes, please forgive me if I don't think before I speak, or if I'm
quiet, it means I am trying to think first. Also, I enjoy every crazy minute of having 4 kids, the rewards FAR
outweigh the struggles.
When was the first time you recognized your interest in fashion? My father is an industrial designer so designing, creating and thinking, was the norm in my house growing up. My choice was just what medium to choose. I had a very inspirational teacher in high school who was a fashion illustrator and exposed me to expressing clothes through illustration which was still a popular way to advertise clothes, so we listened to classical music and flipped through stacks of WWD's while we drew. So putting those two things together with being a teenager who didn't want to look like everyone else and literally wallpapering my bedroom with Vogue led me to fashion as a career.
Where have you found inspiration lately? I love different world cultures and always look to them for inspiration. Currently I am looking at the Ancient Maya culture and fascinated by the importance of blood sacrifice they had which seems so barbaric, but at the same time, they were also so sophisticated in their written language, math and science skills.
What is your most valued possession? My most valued possession would be my memory/photo books of my kids. They are something we all enjoy looking at together.
What music do you like to listen to? I love jazz especially Brazilian jazz (named my first son Jazz) but I also enjoy old school and new school hip hop, mixed in with some Raffi 🙂
If you had an opportunity to travel back in time, who would you like to meet, and why? I think I would like to meet Frida Khalo. I love that she seemed like such a strong woman who really came to embrace who she was as a person and artist.
For more of On Online, click here.