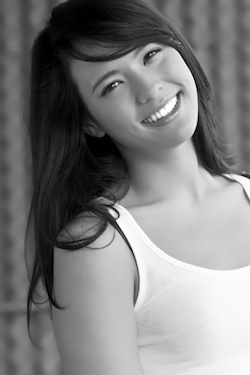 Where do you live? Santa Clarita, California
Area of study? BFA Fashion Design
Day job/occupation? I am currently a student at three colleges as well as a sales representative for a local coffee company. However, my main focus is my swimwear line, Serendipity Swimwear.
What qualities do you most value in others? I strongly value honesty and a solid work ethic. I really believe that honesty and hard work will get you as far as you will ever want/need to go in life. To be honest is to be kind and to be truthful to yourself and to others. I find that most people have the hardest time being honest with themselves. If you are honest with yourself you will allow yourself to grow and that is when the hard work ethic comes in! Hard work and drive will get you where you want to be; try and try again until you prevail. The sense of accomplishment is incredible. To be able to look back on all of the things you have done no matter how large or small is really an amazing feeling. I am a strong believer that you are where you get yourself.
Name three of your favorite designers, journalists, bloggers, stores, etc. Right now I'm really into "Allsaints Spitalfields." I also enjoy the fashion blogger Chiara Ferragni (blog: The Blonde Salad) as well as My go to shop spot, Forever 21 (Gotta love that fast fashion!).
Follow the jump to read more.

List a guilty pleasure: Watching, How I met your Mother.
What is your present state of mind? Right now I am in a great place! I am doing so many things that I have always wanted to do and trying so many new things! I am excited about what the next few years has in store for me!
What is your dream job? Ideally I would love to run a large company that supports smaller companies that I have either started or purchased. This way I can always do what I love, explore new things! This would also allow me to start the organization I would really love to start. I hope to one day link impoverished communities all over the world with local family farms (CSA: Community Sustainable Agriculture). This way people will be eating healthy food, being fed, and they will in turn support the local farmers. So I guess my dream job is really not a job, it's one crazy lifestyle!
What is the most important thing that people should know about you? I'm willing to do what I can to help anyone within my reach.
When was the first time you recognized your interest in fashion? Ever since I can remember! Fashion is all that seemed to matter when I was younger! My mom would always be yelling at me to stop playing dress up in all of her clothes. Fashion is such an excellent way to show the world who you are and how you want to be seen. It gives us all our own voice without us even having to utter a word.
Where have you found inspiration lately? I find inspiration everyday in little things. Lately, it has been the untamed wilderness and the natives of New Zealand. It is a beautiful place spiritually and artistically. The locals have their own style as well. If you have a free second you should take a gander!
What is your most valued possession? Possessions are not people they are things — so I would have to say that my most valued possession is my iPhone. Without it I would be lost in this world. I know that is so pathetic! But what can I say? I am a woman of my own generation!
What music do you like to listen to? Music is my other love and my other obsession! I listen to everything!! Right now I am listning to Bon Iver and in the kitchen, I have the Fleet Foxes CD playing. I listen to classical when I study and country when I drive, I am all over the board!
If you had an opportunity to travel back in time, who would you like to meet, and why? I would like to meet my father, I never got the opportunity to meet him and I believe it would be an honor and a blessing to be able to meet the man who made me.
For more of On Online, click here.