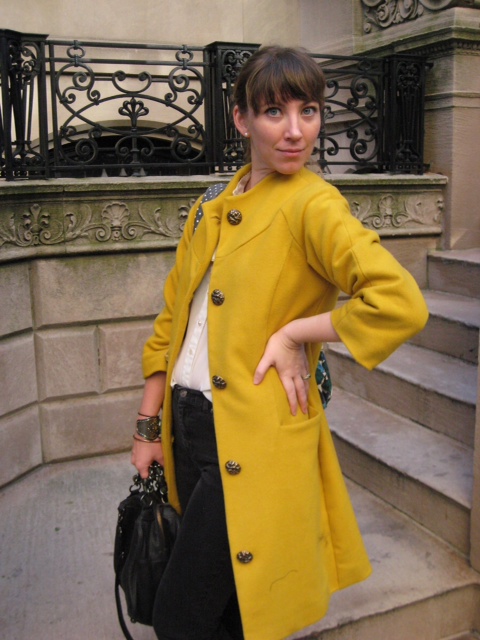 Name: Erica Trinder-Torre
Where do you live? Princeton, New Jersey
Area of study: BFA Fashion Design
Day job / occupation: Server, kitty caretaker, and a sometime intern
What qualities do you most value in others?
Loyalty, honesty, humbleness, wackiness
Who are three of your favorite designers?
Right now: Dries Van Noten, Rodarte, Riccardo Tisci.
List a guilty pleasure:
Watching British costume dramas – think "Downton Abbey", "Pride and Prejudice", "Wives & Daughters". I'm obsessed and it's majorly geeky, I know.
What is your present state of mind?
Rushed and a little scattered.
What is your dream job?
Assistant Designer for a major RTW label, but eventually, my own line!
What is the most important thing that people should know about you?
I'm quiet, but not meek.
When was the first time you recognized your interest in fashion?
In my early twenties I developed an obsession with vintage clothes, then vintage designer clothes. I really loved all of the special details that were hard to find in normal, mass market clothing.
Where have you found inspiration lately?
Lately, I've been finding inspiration in abstract art. While on the surface it seems so free, I love the idea that every part of it is really controlled. I want this to translate into my designs-simple on the surface, but decidedly complex in its creation.
Follow the jump to read more!
What is your most valued possession?
It may sound cliche, but my wedding band and my engagement ring. The wedding band was my mother's and the engagement ring is antique (almost 100 years old) and they are so precious and unique to me. I feel like they really define my personal style, and yet represent the best part of my life.
What music do you like to listen to?
Everything. Lately I have been listening to Tinariwen, this Toureg band from North Africa. It's bluesy and sad and feels like a story to me.
If you had an opportunity to travel back in time, who would you like to meet, and why?
I would love to meet Edith Wharton. She is my favorite writer and her portrayal of late 19th century and early 20th century New York leave me breathless: the fashion, the glitterati, the gossip. I would love to be lost in that world.
For more On Online, click here.