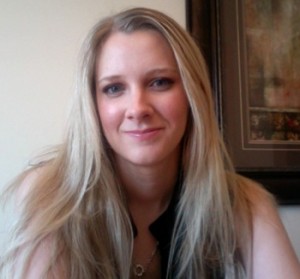 Where do you live? Calgary, Alberta, Canada
Area of study: BFA Fashion Merchandising
Day job/occupation: Makeup artist for MAC cosmetics
What qualities do you most value in others? Honesty. I'd rather it be brutal than nonexistent. That being said, empathy usually follows up brutal honesty very well. A sense of humor is always good too.
Name three of your favorite designers, journalists, bloggers, stores, etc: In terms of designers, it's so, so hard to pick only three, but if I have to: Alexander McQueen, Karl Lagerfeld, Marc Jacobs, and Erin Fetherston. I know, that's four, my bad. Grace Coddington is always at the top for me in terms of her boundless creative vision and capabilities. Scott Schuman (The Sartorialist) for his ability to find style in so many places, and Bill Cunningham for his unique photographic perspectives on fashion and style. I could go on, but I'll shush.
List a guilty pleasure: Eating gelato or any other sweet, fattening food and Watching Skins (the UK version).
What is your present state of mind? I'm trying to shut my mind off a bit for the summer — instead of thinking about fall semester, student loan debt, getting a job after graduating, all that fun stuff.
What is your dream job? Working for a company like Burberry or Diesel in a multifaceted capacity. If I could blend product development and styling, that would be amazing. Working with/for someone like Christopher Bailey would be pretty unbeatable.
What is the most important thing that people should know about you? Hmmm, that I'm a hybrid — not in the environmentally friendly car kind of way, but in a complex way. I feel like I'm all over the spectrum in terms of my personality, interests, ambitions, and values.
When was the first time you recognized your interest in fashion? Probably when I was watching Disney movies and being all about what the princesses were wearing. Playing with my mom's jewelry and walking around in her wicked 80s pumps was probably a hint too. Also when I started to buy Vogue magazine and just got absorbed in the editorials and everything inside.
Where have you found inspiration lately? Books like "Savage Beauty," "Stylist," and Isabella Blow's biography written by her husband. Countless blogs like The Sartorialist, ANNADELLORUSSO, Jack & Jil, Garance Dore, etc. Music, always music.
What is your most valued possession? He's more a companion than possession, but my cat Little Guy. Even though I'm just the cat food cater waiter and purveyor of toy mice.
What music do you like to listen to? Everything. My iPod's contents are so wide-ranging and spastic. Everything from soundtracks and scores (love them), to Thom Yorke, Adele, The XX, Keith Urban, M83, fashion show music — like the music played at the F/W 2011 Chanel show — so amazing. The list is endless and I don't know how I'd function without my music.
If you had an opportunity to travel back in time, who would you like to meet, and why? Elizabeth Taylor. I'd time hop through her career if I could. She was so amazing in so many different ways and I would probably learn so much just being around her. I would probably want to stop in and meet Edith Head while I was there too.
For more of On Online, click here.