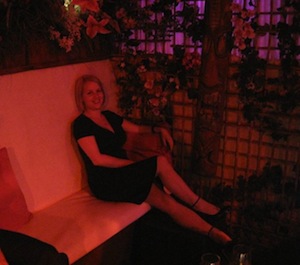 Where do you live? I split my time between San Diego, CA and Nürnberg, Bavaria, Germany.
Area of study: Fashion Design
Day job/occupation: Life Coach and the owner of a pub which specializes in helping promote young bands and artists by allowing the location to be used for everything from exhibition space, to concert hall to a location to shoot band photos.
What qualities do you most value in others? Honesty, sincerity and a good sense of humor. These are my lines in the sand; friendships, relationship and even acquaintances are built around trust. If that's not there it's a waste of my time.
Name three of your favorite designers, journalists, bloggers, stores, etc: Christian Dior, Rei Kawakubo and John Galliano.
List a guilty pleasure: I really don't like anything I'm ashamed to admit to; people will respect me as I am or not at all. I guess something most people wouldn't guess about me is that I listen to a really random selection of music. I hang out with guys who listen to metal, punk and the like; I think I would never live it down if they knew I listen to old jazz and big band as well.
What is your present state of mind? Determined. I will be graduating in December of 2012 so right now I am in full study mode; preparing for GREs, working on my grammar for my foreign language, working on my finances. Right now all roads lead toward grad school.
What is your dream job? A curator and/or conservator in a museum. I would also like to teach fashion or art history at the university level. I am currently working on getting into grad school to study both.
What is the most important thing that people should know about you? I think a lot of the time people take my no nonsense nature as a bit abrupt and aggressive. I'm really not; I am a very loving and loyal friend. I just don't like misunderstandings that come from bad communication. That's time that could be better spent having fun.
When was the first time you recognized your interest in fashion? Oh wow, I was a really young kid, like 5 or 6. My grandpa and several of my great uncles had gone to the Trade High School in New York when they came off the boat from Sicily. They were all tailors who specialized in women's clothing. I remember seeing pictures of their older work and the women in my family were always well dressed even though they were poor immigrants. I loved the magic that came over them when they dressed to go out. They wouldn't have had that luxury without tailors in the family who could turn cheap fabrics into works of art. The way they reacted to clothing made me love it too.
Where have you found inspiration lately? I've been doing a lot of traveling lately. Granted, it is not in the way to which I plan on becoming accustomed (read: crowded 2nd class trains and cheap 6E a night hostels where you get exactly what you pay for), but culture has always been a huge inspiration to me. When I go to new places I am always inspired by the culture and way of life. Recently it has been the Mediterranean region.
What is your most valued possession? A stuffed polar bear my grandma bought me when I was 2.
What music do you like to listen to? Everything. Bob Dylan, Nina Simone, Elvis, Frank Sinatra, and a lot of metal and alternative.
If you had an opportunity to travel back in time, who would you like to meet, and why? I have to choose just one?!? I really can't answer that. It would depend on my mood; some days the answer might be Van Gogh, another day the answer might be Lao-tzu and yet another day maybe Aldous Huxley.
For more of On Online, click here.