It's been a little over a month since we showed at the tents in Bryant Park. Since then, we have gathered ourselves and are amping up for our February and April shows – but that doesn't mean we can't reflect on all the love we've been getting from the press (and it's still coming in). Take a look:
(For the video above, if you want to go straight to the Academy of Art University coverage fast forward to time stamp 2:45…)
From season to season, Academy of Art University remains as one of the most anticipated shows during Mercedes Benz Fashion Week. This season, I have particularly enjoyed works by Amanda Clearly, her clever placed 'cut-outs' felt original and trendy. I salute the outstanding work of the graduating class, and wish them much success in the future.

– Stephan Rabimov, Editor-in-Chief/Publisher, DEPESHA Russian Lifestyle Magazine
Some of the students from the school's multimedia department were also on hand at the show in New York:
In addition to video, our designers got quite the journalistic ovation – online and in print: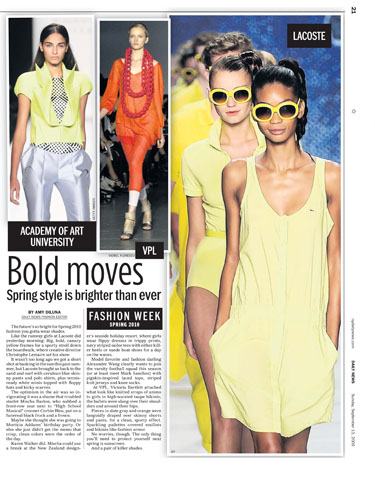 A piece in NY Daily News written about our fashion show
The tightly edited lineups shown by the seven MFA candidates from San Francisco's Academy of Art University were original, well-made and well-styled.

–WWD.com
Popska's knits with their chaotic mix and manipulation of rich textures and multiple colours – from peacock-green and blue to orange, coral-red, rose-pink and nude – created an extraordinarily varied chromatic jungle, offering the wearer a new aesthetical experience.

–Anna Battista, DazedDigital.com, website for Dazed & Confused
Academy of Art (University) is one of the best shows to see at New York Fashion Week because the designs displayed are those of hard-working students hoping to make it big at Bryant Park.

–Colleen Moody, Cosmo Girl!
The Academy's class of 2009 is as good as any before it…

–Dominick Tao, ABCNews.com
It is extremely refreshing to see exploration in fashion and intense talent in the 20's age bracket. Collectively Marina Nikolaeva Popska, Kara Sennett, Amanda Cleary, Richelle Valenzuela, Brittney Major, Jie Pan and Sawanya Jomthepmala presented a show that celebrated the future talent of fashion.

–J. Dwayne Joseph, Trace Magazine
After such a groundbreaking showing, we're sure that we'll be seeing more from these talented artists in the very near future, especially after seeing the jaws drop on some very influential industry vets sitting front row.

–Annie Kreighbaum, FashionWindows.net