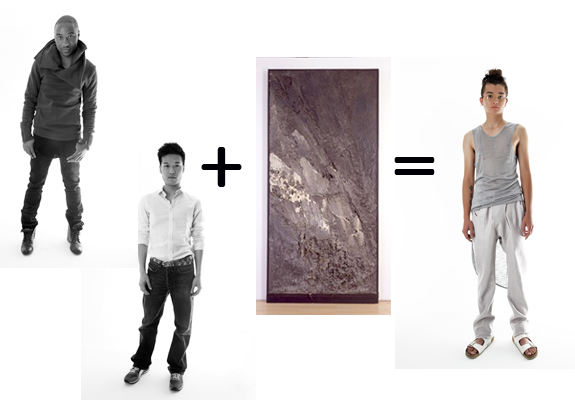 Louie Llewellyn, M.F.A. Men's Wear Design
Birthplace: Boston, Massachusetts
Materials: silk faille, linen, cotton twill, cotton piqué
Louie used the theme of a 'disagreement' between a hard and soft men's wear silhouette. He designed the woven pieces with sharp edges and bold lines, then added softer fabrics for contrast. He used one of his favorite paintings, Incision by Jay Defeo, for the color inspiration and selected fabrics to evoke a feeling of strength and desire. His favorite fabric for this collection is a cotton-silk blend piqué in lavender and black.
Xiang Zhang, M.F.A. Knitwear Design
Birthplace: Shanghai, China
Materials: cotton and rayon knit
Over 30 swatches were created before the final color combinations were selected. A time-consuming plating technique, knitting with two strands of yarn held by hand and twisted to obtain the desired effect and color combination, was used. Each knit piece took approximately 50 hours to finish.
For more info about our New York Fashion Week show, click here.