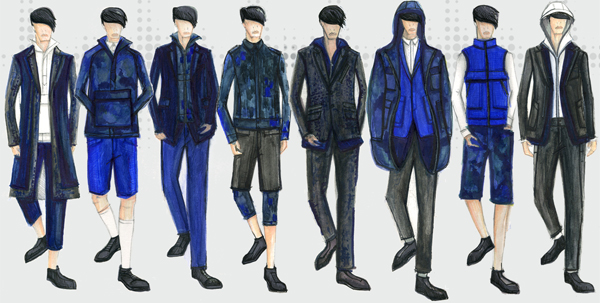 Lisa Nguyen, a Los Angeles, California native, earned her B.A. in Public Health at the University of California Berkeley, before switching career paths. Lisa pursued her M.F.A. in Men's Wear Design. She collaborated with Jen Chen, M.F.A. Textile Design, on a collection inspired by the idea of intergalactic combat wear, creating pieces that are multi-functional and have a protective element using a combination of GORE-TEX®, ballistic nylon, cotton, and wool.
Jen Chen grew up in Fremont, California, attending nearby University of California, Berkeley and earning a dual degree in Architecture and Asian Studies. While pursuing her M.F.A. in Textile Design, she honed her skills as a Design Intern at Abercrombie & Fitch, and as a Textile Design Intern at Williams-Sonoma. She also participated in The Collaborative Print Project at Mercedes-Benz Fashion Week in 2010, and even designed a print for Azzedine Alaïa. She collaborated with Lisa Nguyen on a men's wear collection.
For more information on Mercedes-Benz Fashion Week, click here.