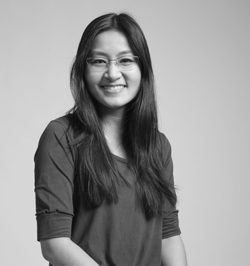 Jarida Karnjanasirirat is from Bangkok, Thailand, and earned a bachelor's degree from Thammasat University before coming to Academy of Art University to pursue a master's degree in Fashion Design. She has interned with the N.I.C.E. Collective in San Francisco, assisting the design team with patterns, graphic print designs, and sample construction.
For her Spring 2013 collection, Karnjanasirirat wanted to mimic the structure of relief sculptures – in which elements of the sculpture are raised from the background. She created three dimensional collars, lapels, and pleats, bringing her inspiration to life in her garments.
Follow the jump to read our interview with Jarida!
When did you first realize you wanted to be a designer?
A few years ago I had the chance to be part of a fashion trade show in several countries, and found the industry very interesting and exciting – I knew I wanted to be a part of it.
What was the first article of clothing you ever designed?
I designed a dress for myself for a wedding party and received so many compliments! 
What other designers do you admire and why?
I love and admire Marc Jacobs and Francisco Costa. 
What is your present state of mind?
Calm.
What has been the hardest part of designing and creating your own collection?
It is hard to say what the hardest part was – after months of working, everything seemed hard but when I look back, it doesn't seem as difficult.
Where do you find inspiration?
Anywhere. I like to walk around the city, go to the park, museums and the church near my apartment. I also love reading and watching movies – everything can lead to inspiration!
What do you love most about being a designer?
I love the process of designing and making clothes. It is amazing how a sketch can finally become a real garment that can be worn – it comes to life.
What is the most important thing people should know about you?
When I'm working, I take each and every detail seriously.