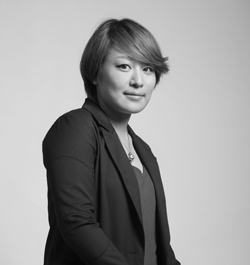 Ginie C. Y. Huang was born and raised in Taiwan and earned a bachelor's degree in Business Administration from Taipei National University, before coming to Academy of Art University to earn her M.F.A. degree in Fashion Design. Her work was previously shown at the University's Spring 2012 Mercedes-Benz Fashion Week show, as part of the Italian Trade Commission Collection.
Her Spring 2013 collection was inspired by the work of Ninagawa Mika, one of Japan's most popular photographers. Huang was inspired by the feeling that Mika's images invoke – a feeling of being completely immersed in the colors.

Follow the jump for our interview with Ginie! 
When did you first realize you wanted to be a designer?
I thought I decided I want to be a fashion designer when I was 14, however, I think I really knew when I was in fifth grade. We were given a homework assignment, and I wrote about being a fashion designer. I was so young, and didn't really know what a designer did, but I knew I wanted to be one.
What was the first article of clothing you ever designed?
A dress for my barbie when I was small.
What other designers do you admire and why?
I like Miuccia Prada, Marc Jacobs, Kenzo, and Givenchy by Riccardo Tisci. The common thread is that they are all skilled at using bold color and print, and also show a variety of fabric manipulations.
What is your present state of mind?
I want to go to my favorite pho restaurant at and then go home to take a nap. If I wake up before 5, I would love to get a manicure and pedicure.
What has been the hardest part of designing and creating your own collection?
The hardest part is knowing how to pull everything together and organizing all of the materials I am going to use. Especially the process of making the trim out of ostrich feathers and then applying them to the garment, it really takes time.
Where do you find inspiration?
I find my inspiration in movies, exhibitions, books and the internet.
What do you love most about being a designer?
I really like to do design projects. I like to surprise people, including myself. What I really enjoy is hearing people say, "This is beautiful."
What is the most important thing people should know about you?
I am a really negative person but I am always trying to be positive.
For more on the Academy of Art University Spring 2013 Fashion Show, click here.