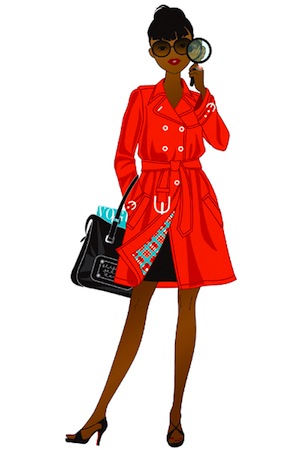 Fashion School Daily interviews Mignon A. Gould, M.F.A. Fashion Journalism student and creator of The Chic Spy.
Where did you grow up? Phoenix, Arizona
When do you graduate? May 2011
You have a blogzine called The Chic Spy, tell us about it. The Chic Spy is a style and entertainment blog, narrated from the perspective of a character who is a sartorial sleuth. She is the editor-at-large of TheChicSpy.com. She is on a mission to uncover the chicest, whether it's exposing the next big heist, like bodacious baubles stealing the scene from yet another designer ensemble; or investigating the looks of elusive red carpet celebs, those who are trés chic and those who merely shock.
When and why did you create The Chic Spy? I launched ThChicSspy.com in 2007. My love for fashion and pop culture inspired me to launch the blogzine. I wanted a blog that delivered fashion and entertainment news in a fun and quirky way, hence a fictional character, The Chic Spy.
What topics do you cover on The Chic Spy? The blogzine features designer profiles, beauty buzz, movie reviews as well as insider and celebrity interviews including Scott Schuman (The Sartorialist) Annette Bening, Idris Elba, and Sofia Coppola. In late 2010, I launched Chic Spy TV and have produced three video segments, Lofty Living: Decorating Small Spaces, Men Talk Fashion, and How to Create a Jewel Tone Smoky Eye. I have several contributors to the blogzine including UK-based stylist Justyna Gorajala, who covers European fashion; Stephanie Lazorchak, who writes the Chic or Shock column on red carpet looks; Isis Guerrero, who answers reader's fashion questions in her Ask Isis column; and Lynsdey Hutcherson, who writes fashion features.
The Chic Spy has a feature called The Little Orange Book – tell us about that. The Little Orange Book (LOB) is a directory of industry professionals including designers, photographers, and retailers. Freelancers and business owners are welcome to submit their businesses to be listed in the directory. Readers, as well as other professionals, are able to search the directory by categories. It's a great way to bridge the gap between industry professionals around the world and their target audience.
What is next for The Chic Spy? There will be more events sponsored by The Chic Spy, as well as collaborations with companies. In 2010 there was the first Covert Cocktails with Roe Restaurant in San Francisco, where happy hour guests could indulge in six custom cocktails including the Covert-ini and the Mission Impossible, which were orange and teal in color. For the Chic Spy TV beauty segment Thechicspy.com collaborated with Pigment Cosmetics and recently, participated in a blogger experiment with Polyvore. Currently, in development is the event jean+ology: the perfect fit. It's all in your jeans, to help readers solve the ever plaguing quandary of how to find jeans that best fit their body and shape. Thechicspy.com also sponsored a screening preview of the spy flick "Red" starring Bruce Willis, with giveaways of an iPod Shuffle, Red t-shirts, and comic books.
What is next for Mignon? Continue developing content, building the brand, and eventually launch Thechicspy.com into a revenue-generating publication. My future goal; to do for blogging what Oprah Winfrey has done for daytime television.