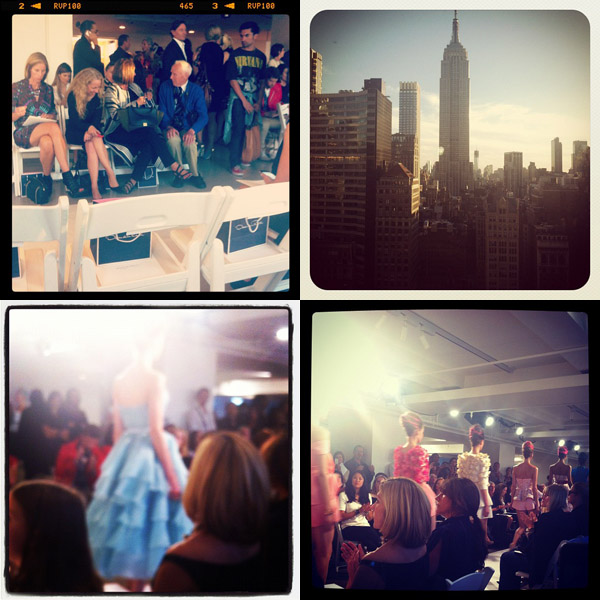 Attending the Oscar de la Renta Renta Spring '13 fashion show was quite possibly the highlight of our lives. That may seem like a bit of an exaggeration, but trust us, it's not. Imagine walking into a room and nearly everyone that you admire in the fashion industry is there, too, just a few feet away from you – pretty much sums it up.
We made sure to arrive ahead of time, as we'd heard that Oscar was quite punctual. Walking into the showroom on the 25th floor we were greeted with a stunning view of the Empire State Building, and a simple and elegant white runway. It was immediately clear that Oscar's shows are all about the clothes, fancy gimmicks are not his style. We took our seat and watched as the parade of industry icons streamed in – social media favorites John Januzzi, Eva Chen, and Rachel Strugatz; Rachel Zoe and hubby Rodger, Hamish Bowles and Anna Wintour. By the time they dimmed the lights, we were practically shaking from admiration overload.
Follow the jump to read more!
The show began with a bang. Out paraded model-of-the-moment Karlie Kloss sporting a red latex tank top paired with a navy blazer and ivory pencil skirt with a slit that Angie's right leg would surely approve of. It was clear that Mr. de la Renta wanted to have a little fun this season. Latex showed up again on a turquoise pencil skirt suit topped with a shocking pink cropped jacket adorned with coordinating tassels, and though latex often conjures images of black catsuits and riding crops, he managed to make it sublimely chic.
The collection definitely had an edgier feel than we're used to from the designer, but there were still plenty of signature de la Renta stunners that catered to his ladylike clientele. There were ivory linen daysuits embellished with leather macramé and lace patchwork dresses. Cotton candy colored confections in silk organza and silk faille dresses with black filligree threadwork were breathtaking. And for evening, an array of showstoppers to choose from – including a gorgeous black strapless gown with silver beading and a hot pink silk faille gown with contrast turquoise in the back and tassel embroidery. And bookending the show, Ms. Kloss stepped out in an oyster coupé gown embroidered with gold sequins and a hi-lo hem, a continuing trend for the Spring season.
After the finale, the man of the hour stepped out for a brief moment – just long enough to give a wave to the adoring crowd. Show-goers then jumped from their seats in a mad dash to make it to the elevators first, but we didn't mind taking our time on the way out. After all, it's not everyday we're rubbing elbows with the fashion elite. And our patience paid off – we rode the elevator down with the Man Repeller herself.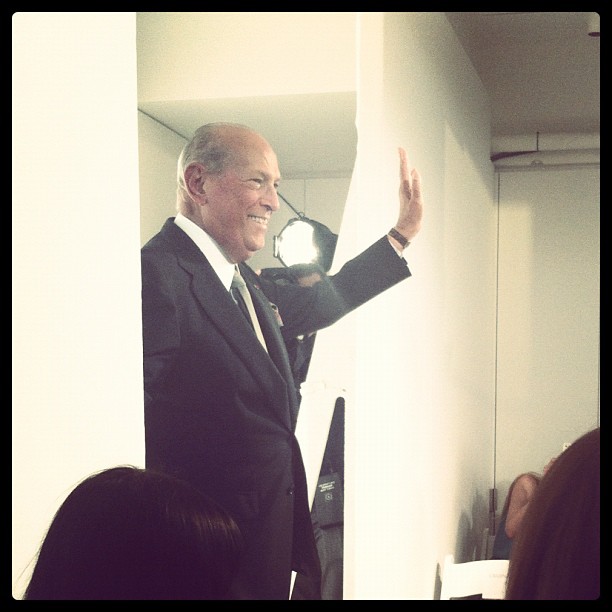 [imagebrowser id=43]
For more from Mercedes-Benz Fashion Week Spring '13, click here.