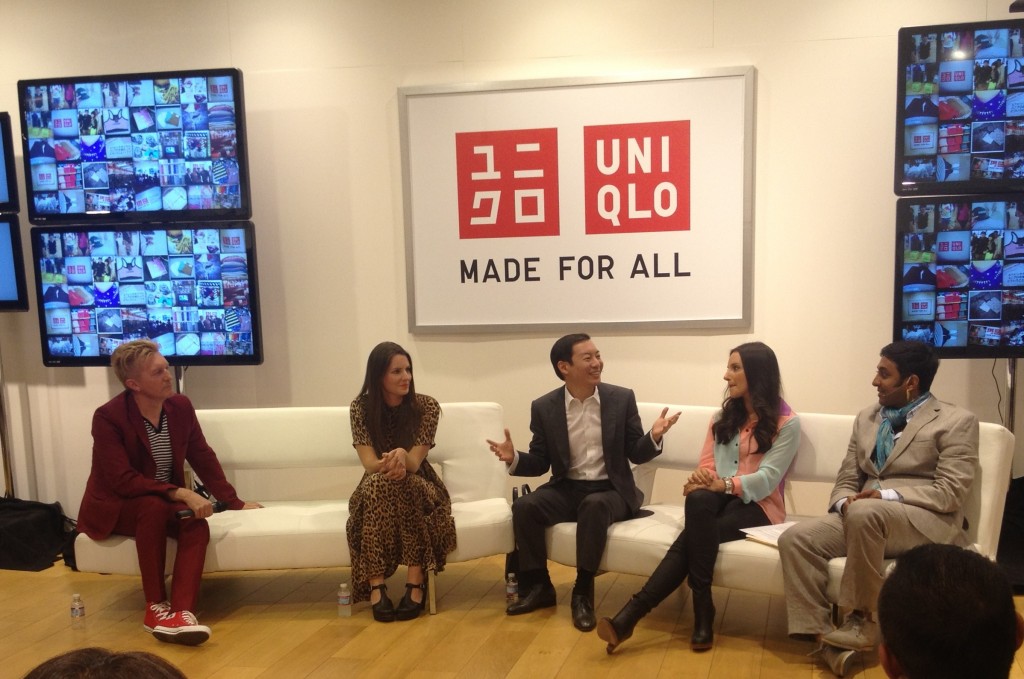 Downtown San Francisco was abuzz Thursday night with fashion-savvy ladies and gents dressed in their Sunday's best, eager to bask in the glorious madness that is Fashion's Night Out. Exciting events, promotions, and parties were happening all over the city, and not far from Union Square, UNIQLO had jumped on the party bandwagon at their Pop-Up Experience on Post Street in order to further elevate awareness of their brand and promote the integration of fashion and technology.
Loud music, welcoming employees, and an open bar got the evening started off right before guests settled into the cozy top floor of the Pop-Up Experience to enjoy a panel of pros discussing technology's influence on the fashion industry (and vice versa). Amongst the panelists were Brit Morin, CEO of Brit & Co., Kenny Kyogoku, COO of UNIQLO, Katie Hintz-Zambrano, Senior West Coast Editor of Refinery29, and the School of Fashion's very own Keanan Duffty (who stood out in a dashing red suit and Chuck Taylors)!
Follow the jump to read more!
Serving as the School of Fashion's new Senior Director of Merchandising, Duffty brought a fresh opinion to the panel with his untainted, brand-new-to-the-Bay-Area vision of San Francisco as a city for fashion. "San Francisco is a little more intellectual than other West Coast fashion." That's not to say that we're going to be the next New York, though. In fact, all of the panelists agreed that San Francisco has a style all its own that should be celebrated; there's a lot to be said for fashion that's outside the norm.
Duffty recalls local brand Nice Collective, with whom he has a history, saying, "They don't want to be part of the New York thing. They want to remain unique, and I think that's how they've been able to. Hopefully we can encourage more of that."
As far as fashion and technology go, well, it seems as though both industries have had an affect on each other in one way or another. The tech world may want "to get into the sexiness of fashion" now, according to Duffty, but technology has already had a "great, positive impact" on fashion. "Our industry is about reinvention. Fashion can be updated every second with the online presence that's more prevalent than ever."
San Francisco serves as a sort of creative capital of the world. Innovation happens here, and this city simply can't help but breed creative talent. Perhaps the technology driven innovation could lend a hand in helping San Francisco fill a niche that's missing in the fashion world. Duffty and the other panelists all agreed that they'd love to see more local branding here in San Francisco; they hope to encourage the city's local talent stay and aid their success in the Bay Area.
Written by Rachael Gardner.