By Prachedes Germano, MA Fashion Journalism
Patric (Yikun) Wang is in his last semester within the BFA Costume Design program and is already making history. In May, the designer was invited to create a hat for the world-renowned musician Beyoncé as part of a promotional shoot for Adidas x Ivy Park, Beyoncé's collaborative line with Adidas which launched on August 19th.
Wang, who was a finance student back in China, never imagined becoming a costume designer. "I always wanted to 'make art,' but my whole family is in the finance field, so I basically had no choice except to study finance." After two years into finance school, he couldn't take it anymore. He was doing something that didn't fulfill his life. Wang confesses, "I just wanted to do something for myself and feel special. Fashion is something I liked for a long time and had to try it out."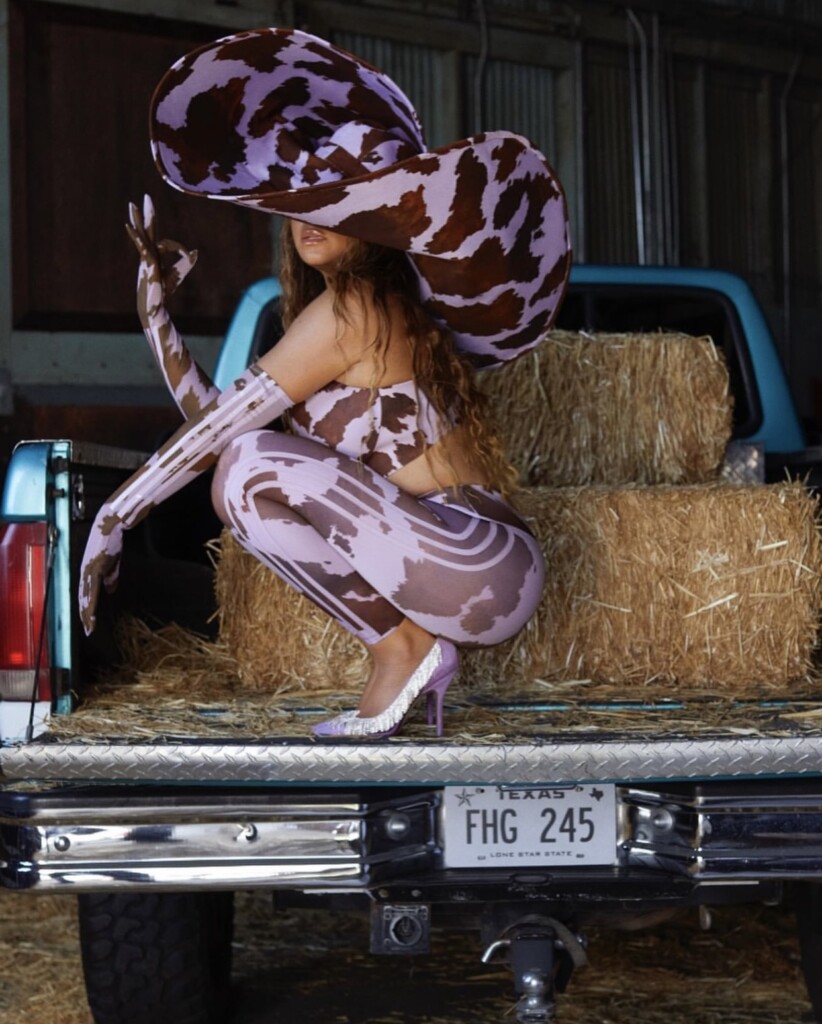 However, after exchanging ideas with his design teachers, Wang understood he wanted to develop unique clothing that would connect emotionally with people; he wanted to be able to focus on small details that give life to characters. "I didn't know much about costume design until my teacher told me I would fit perfectly in this world."
And Wang sure does. The opportunity to work for a celebrity like Beyoncé proves that. It all started with Elaina Haviland, known as Laney, a Los Angeles-based freelance fashion stylist and School of Fashion alumna who was part of the styling team of Beyoncé's lead stylist, Marni Senofonte (Marni X Marni). Haviland details her role in the campaign, "I was reaching out to brands, designers from all over the world and also sourced locally to make sure we had all the custom pieces, accessories, and garments we needed for the shoot days."
The collection's inspiration came from Beyoncé's childhood in Houston, Texas, and her family tradition of going to rodeos. A star accessory to showcase this concept in the photoshoot was "cool and visually interesting hats," says Haviland. It was when Alice Michelle, a mutual friend and fellow School of Fashion alum, showed Patric's previous work to Haviland. The work was a collaboration collection between Wang and Zoey (Dandan) Huang, BFA Fashion Design, where Huang developed all the clothing and Wang created stunning hats. Michelle explains, "Laney reached out to me to know if I had any designer friends with experience making hats. She showed me the mood board for the shoot, and I instantly thought of Patric and his insanely unique hats."
Haviland knew the styling team was looking for visually exciting and iconic hats. She had the freedom to source anything inspiring, whether an up-and-coming designer or a well-known one. When she saw Patric's collection, she knew it was a match. She concludes, "I thought his collection was impressive."
The styling team sent Wang the fabric to be used – one of the collection prints – and, within two days, the costume designer delivered the hat in person after driving from San Francisco to Los Angeles.
It was one hat, but it indeed brought Wang's career into the spotlight. After publishing images from the shoot on his Instagram, Wang said people started coming to him looking to buy hats for themselves.
"It still doesn't feel real, but it makes me feel more confident about myself," Wang confesses. He mentions that working with art is "not a real business in the environment he grew up in," but now, after designing a hat for Beyoncé, things have changed. He proudly shares that, since then, his whole family understands that he is doing something significant with his career. Being recognized at this point is just the beginning of an incredible journey as a costume designer.