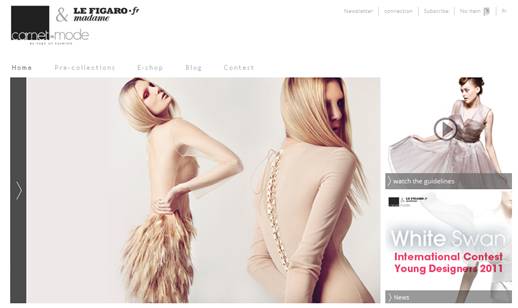 Job Information
Company Name: Carnet de Mode
Job Type: Internship
Major: Fashion (Any)
Job Title: International Fashion Art Direction to prospect young designers
Key Skills: interest/background in fashion, communication skills, prospection, business, management
Job Description: Internship for 6 months or more as an International Fashion Art Director and Hunter for the most emerging young designers all over the world from our office in Paris:
Prospect new talented young designers of High-End Ready-to-Wear (W/M) and accessories by using internet, social networks, fashion blogs and Fashion Tradeshows all over the world (Japan, UK, USA, Italy,…)
Attract these designers to present and sell their collections on CARNET DE MODE
Check and help the designers to fill their profiles and photos on the website and translating the garments' description in English or French when needed
Direct some editorial shootings for the website when needed and organize fashion events (contests, runways, etc.)
Follow the jump to read more!
Job Qualifications
An excellent Editorial Fashion taste. Excellent speaking and writing skills in English (and French ideally) for exchanges with French or International designers. Motivated, very dynamic and good autonomy. Experience in Fashion or Luxury markets and curiosity to discover and learn everything about Fashion markets in Europe, Asia, and USA. Graphic design skills would be a plus. This internship could lead to a long term contract if good results.
Location of Job: Paris, France
Length of Position: 6 months or more
How To Apply: Email Resume to Arbia Smiti at info@carnetdemode.com
Contact Information
Contact Name: Arbia Smiti
Address: Pépinière Soleillet, 14 Rue Soleillet
paris, 99 75116
Phone: 33621221685
Email: info@carnetdemode.com
Website: www.carnetdemode.com
Company Profile: Carnet de mode is the Parisian temple of fashion on Internet which offers an international showcase of tomorrow's most talented designers. Established as a real worldwide talent hunter, Carnet de Mode's strongest will is to present limited edition of not only unique but also "avant- garde" collections. First international platform of crowdfunding in the Fashion Industry, Carnet de Mode allows shoppers to invest and finance designers' collections from all around the world in return for exceptional and original pieces and an important return on investment. Carnet de Mode is also a permanent online store offering a highly specialized selection of ready-to-wear and accessories' items.