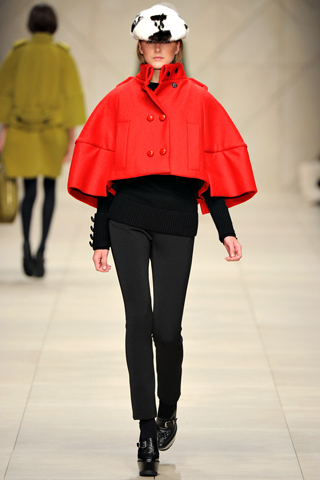 Danielle: Burberry shows usually a) bore me or b) confuse me. This season, I am proud to say that there is a piece (or two) that captured my attention. Unfortunately, I had to hunt and dig to find what I loved (I had to scan through the "details" page of Style.com). I nearly screamed when I saw the chunky, enormous loafer wedge! Although this shape has already peaked at the top of its trend cycle, I can't help but salivate a bit.
Harry: Christopher Bailey named Burberry's Fall collection after Jean Shrimpton. The '60s happen to be my personal favorite time for fashion. For many, the name Jean Shrimpton might not ring a bell. However, she's a very well known model in the '60s. Shrimpton and Twiggy were the face of the sixties. The collection was refreshing. There were lots of unexpected bright colors for fall. One of my favorite silhouettes was on Lisanne De Jong. This has to be my most favorite from Bailey for Burberry Prorsum collection to date — and the shoes were amazing: a mix of punk creepers and Mary Janes.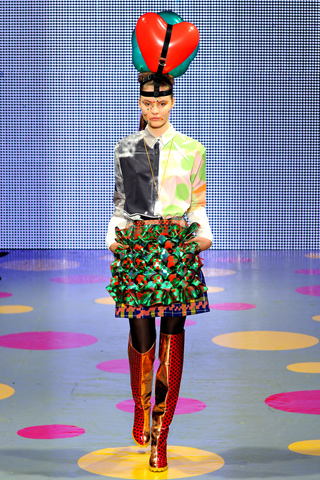 Danielle:It's like Danielle meets the circus, don't you think? You KNOW I've had thoughts of purchasing a balloon animal how-to kit just so that I could make my own balloon headpieces.
Harry: "I was trying to think more of a wardrobe of what a woman wants," said the ice pink haired Louise Gray in an interview backstage at her show. The woman she mentioned must be quite a character. Some might argue that the collection was clowny and costume-like. In reality, not many women are willing to style the clothes the way Gray had them on the runway. However, there were interesting standalone pieces such as the jackets, T shirts, skirts and dresses. One piece that really caught my eyes was the skirt on Tilda Lindstam. Take the structured skirt and pair them with a black T shirt and you'd get a practical look without being clowny.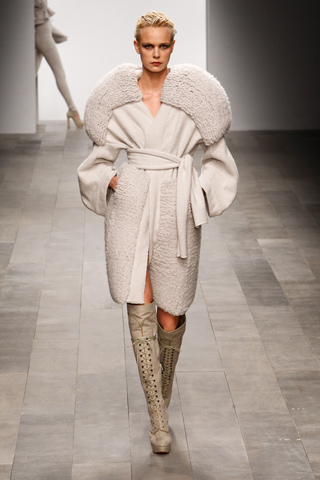 Danielle: Last season, Mark Fast showed us unforgettable sexy, crochet mini dresses. For fall, he kept the super-mini hemlines and switched out the fabrications. The tiny sheer dresses matched with lace up, knee high boots, and paired with burgundy leather jackets are starting to drive me crazy — in a good way. Although I'm not sure about some of the first looks in this collection, I am quite certain that once Mark Fast hits the color black, he can't go wrong.
Harry: I was very pleased to see that Dewi Driegen opened and closed the show — she's a quarter Indonesian, you know? Anyway, today Mark Fast is known for his body-conscious collection — or whatever you wish to call it. From streetwalkers to rich ladies, he designs (quite literally) for every type of woman. There was definitely thought put into the collection. It had commercial appeal that can reach various markets. I just wish there were more luxury and personality in it.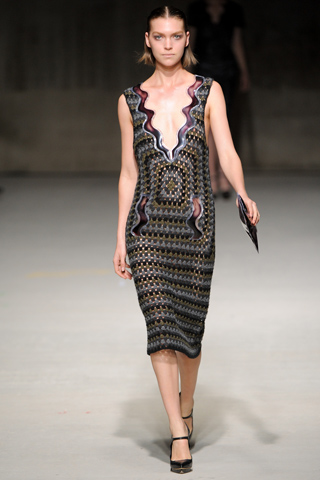 Danielle: Before viewing Christopher Kane's full collection online, I saw a detail image of one of the plastic/liquid clutches on Tumblr. Immediately in love, I went on a frantic quest to find out if this detail photo was from a new collection or if it was a fantastic archival piece. Turns out that Kane is giving me a blast from the past this season — way back to the fourth grade where notebooks were made of plastic filled with multi-colored liquid. A couple of Kane's Fall dresses borderline on questionable and bad, but I can't help but love a plunging V-neck made of liquid and plastic. PS: Loving the heel, too.
Harry: We all love clothes that move, don't we? Some of the materials from Christopher Kane's Fall collection were very interesting. They were plastic filled with liquid. The liquid was a mix of vegetable oil and glycerin. The liquid actually bubbled up on the runway — cool and crafty. The collection reminded me of underwater creatures. The highlight of the show for me were the clutches. They remind me of iridescent oysters.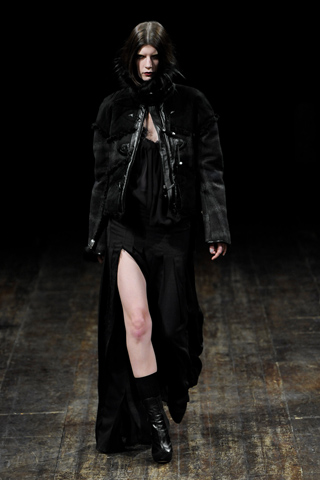 Danielle: Like Christopher Kane's plastic clutch, I had an emotional reaction when I viewed Macdonald's gothic inspired Fall collection. I love the full spectrum of this collection — it's not all black. The finale gowns are in beautiful muted pastels, giving more selection to a wide range of customers. The beauty and styling of this show are truly inspiring. Pin straight hair, ghostly white skin, lace-up Victorian booties, black lace, and cloaks are a combination I feel eager to try — if I haven't already.
Harry: Julien Macdonald showed a collection inspired by gothic art mixed with rock and roll. For me, gothic art always has a sentimental and romantic side. Julien did not forget that romantic element. His collection contained lace, leather and his powerful knits.  The collection might look very moody, but if you take the dresses and paired them with rosy makeup and a chignon, they could be extravagant gowns. I like the fact that Valerija Kelava opened the show. There is something about her that's very gothic.