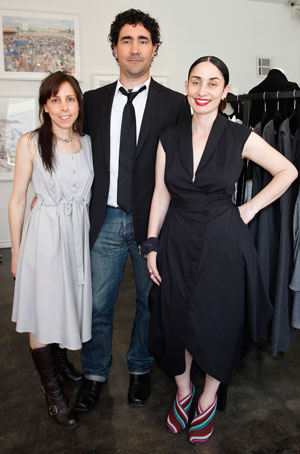 Photo by: Donato Sardella, Style.com
Remember when we announced that alumna Jill Giordano and her partner Brian Scheyer of the San Francisco-based fashion label gr.dano were chosen to participate in the fourth California Design Biennial? (click here if you don't remember) Well, the people at Style.com were there to cover it and, in turn, Jill and Brian were featured on the site.
Rose Apodaca, who assembled nearly 100 items from 11 designers for the showcase at Pasadena Museum of California Art, had nothing but praise for our alumna:
At first sight of the gr.dano collection, I could instantly spot the technical skill in the draping and construction," said fashion curator Apodaca. "Deciding what the show needed to be was easy; the real challenge was limiting the choices to 11.
Gr.Dano joins the ranks of other designers who have showcased at the event including Phillip Lim and Rodarte.
Congrats Jill and Brian!
Click here to read the complete story
gr.dano [Official Website]